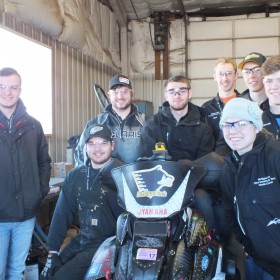 Thank you for the welcome! And thank you for sharing your favorite places and things to do in the Copper Country. Stay tuned for the Keweenaw Bucketlist, coming to TechAlum this spring.
Michigan Tech students enjoyed spring break this past week. Students traveled across the country to visit Silicon Valley businesses, volunteered at nonprofits and shared science, engineering and technology with students and their families.
Closer to home, the Keweenaw Research Center hosted the 18th Clean Snowmobile Challenge. I spoke with many alumni and sponsors who came to offer advice, encouragement, and more for this year's event. Here's their story.
Now it's your turn. Please share your spring break story from life as a Michigan Tech student or how you give back to Michigan Tech. Send us your stories.
Can't wait to hear from you!
Sarah