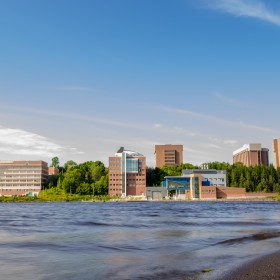 Michigan Tech has an oddly shaped campus. That's just down to the physical terrain here, and unless US-41 somehow moves and we're given unlimited funds to move buildings around—if only it were as easy as in SimCity—we'll always have the elongated campus we do.
I rather like it, as the campus mall is where you see everyone between classes. The highway is right there, easy to give directions for those new to town. And it's always a reminder to us that we're a community campus, one where your next class isn't across a town with half-a-million people.
What I like even more is showing visitors how big campus really is. Dow and the M&M aren't imposing buildings from the highway side of campus. But go down our other major campus transportation corridor and their size becomes obvious.
Campus just looks a bit different from the Keweenaw Waterway. Or Portage Canal. Or any of the other names we have for the ribbon of water separating campus from all of Copper Island.
It's also one of the very few places you can see all of the main campus in a single glance. Where you can imagine the foundry in action in the M&M and invasive species research in the Great Lakes Research Center together at the same time. Or see the R/V Aggasiz under power, passing in the foreground of Hillside Place.
I like it because it's a glimpse at a bit more than 8,000 people hard at work: our students, faculty, researchers, and staff getting to work and making the future happen. I have the privilege of working on annual reports and newsletters for a number of departments on campus, so I get to see just what some of that work is.
It's a nice reminder, since each of us who has walked through the center of this campus only ever works on a tiny slice of what we do here. Heck, I pretty much lived in Walker and occasionally taught in Fisher: I still get lost in the Dow. And M&M. And a lot of places on campus, really. At least I know which staircase in the MUB goes nowhere.
That's why I like this view, the one I usually get to on my mountain bike along the path through Ripley. And it's why I like to catch up with the news here, check in with some of the departments. There's a lot to take in all at once.
Elsewhere:
It's awards season down the way as you'll see down in the news. All sorts of them.
Know an outstanding alumna/alumnus? Alumni Relations is taking nominations for its board of directors. More on that down the way in Alumni Around the World.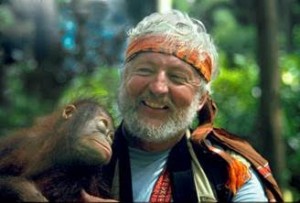 An interesting bit came in from Boyd Norton '60, a former nuclear physicist and one of the most respected nature photographers out there. He's won the 2015 Ansel Adams Award, presented by the Sierra Club. The award is for an outstanding contribution to furthering conservation causes through photography. Here's a bit from the press release:
Norton is the photographer and author of 16 books, ranging in topics from African elephants to mountain gorillas, and from Siberia's Lake Baikal to the Serengeti ecosystem. His most recent book, Serengeti: The Eternal Beginning, won high praise from Jane Goodall and NBC News correspondent Richard Engel, among many others. The book was a finalist in the 2012 annual Colorado Book Awards. His newest book, Conservation Photography Handbook: The Art of Saving Our Planet One Photograph at a Time is due for publication in early 2016. He is at work on three more books. Norton has lived in Colorado for 46 years. Prior to that he resided in Idaho where he was a nuclear physicist studying nuclear reactor safety for the Atomic Energy Commission. He once blew up a nuclear reactor—deliberately—the subject of one of his forthcoming books. Norton's photographs and articles have appeared in most major magazines, including Time, National Geographic, Smithsonian, Natural History, Outside, The New York Times, Audubon, and many others in North America and Europe.
Congratulations, Boyd! I definitely want to read about blowing up a nuclear reactor.
And finally this edition, I hope you and yours have a great holiday weekend. Travel safe and enjoy your time with family and friends.
Thanks for reading.