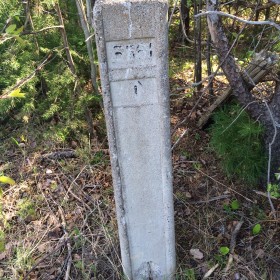 Growing up in Hancock, we considered our side THE Canal Run. There's even a footrace named that, beginning near McLain Park ending in downtown Hancock. But we know there's another side to the canal, and we've all spent many hours out there.
Memorial Day found us cruising it once again, recalling old times and making some new discoveries. Of course, this year's weather was still causing strange behavior. For example, there weren't enough leaves to bother with Covered Drive. That's a first for this late in the year.
And a snowbank tucked on the bottom of a hillside at the breakers was another bizarre first.
We began by stopping at the Verna Mize park just before the Canal Road, across from the B&B, sort of. You might recall her as the relentless citizen who worked to stop taconite tailings from being dumped into Lake Superior. The park is also part of a bike trail.
The old Bosch Brewery building was our first canal landmark. It doesn't look much like it used to. I recall finding corks floating over on the Hancock side in my youth.
Schmidt's Corner was next. It's changed since the olden days with the photos covering the walls and Eppy the bartender. This is where you'd head toward Liminga, across the road.
There were more farms on the road than I recalled. Horses, cows. And a couple of hockey rinks. The famous Kenner Dome in Oskar Bay and another private one before that.
The terrain really changes, hilly, swampy, flatlands, more hills toward the end.
At the park, we were surprised at the amount of logging that had been done. It is much more wide open than it was. It was selective cutting, my Twig friends will allow me to guess.
The old Stanton Township Park looked the same, but it was cleaned up nicely. The road to the breakers had changed, and it was windy, like it always used to be until sunset, we recalled.
We also took the road to the end, where there was evidence of a few old campfires. It is higher up than I recalled, too. A great overall view.
On the way back, we spied a large bird circling near Coles Creek (where you would turn for the Covered Drive). When we got closer, we realized it was a bald eagle. Then it was joined by a mate. A mad dash near the creek yielded one fuzzy photo (in the slideshow above). Smelt season had just ended, and we assumed they were cleaning up the mouth of the creek before they took off.
We ventured home and had some fish ourselves. Salmon, which I think the eagles would have loved.
Dennis '92 '09