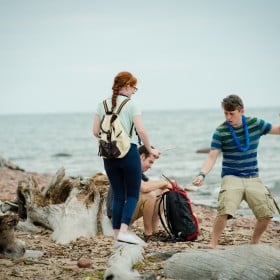 Neither the calendar nor the thermometer may say so, but we're coming up quite literally on the middle of the year. By that I mean it's light out until all hours here in the month of June. Sure, July through October is lovely, but we only have about three more weeks of the days getting longer.
I've worked a few summers in Copper Harbor, so I know that real summer doesn't even begin until July 4, but there is a bit about this time of year that seems so unfair: finally, the weather is nice enough to get the telescope out without fear of frostbite. But I can't stay awake long enough to see much. Unless, because I'm writing about it here, they count that as work time for me and I don't actually have to get up at 7.
It's the time of year I like to go to McLain or Great Sand Bay—quite possibly my two favorite places on the planet—and catch a sunset, only to realize on the ride back that the ice cream shop is already closed, being nearly 11pm and all.
More than anything, though, it reminds me that we haven't tamed all of the nature out of us, something we're keenly aware of here in the Keweenaw. These are the nights of short sleep and waking up, fully alert, when you hear a mosquito in the bedroom. Of sitting on the deck at the DT and watching the bridge glow in the colors of the falling sun. Or music on some nights over in Hancock's Porvoo Park.
We talk up here about how we celebrate our winters, between Carnival and hockey, curling and skiing, saunas and the smell of wood stoves. This is the other end, the other season we should revel in, and we're just on the cusp of it being in full bloom. It's full of possibilities, this summer, like every other one before it. What to do tonight? Or tomorrow? Or this weekend? Or… wait, how is it Labor Day already?
The Sun is up long. These days are long. But they go by so, so fast. Maybe it feels like you were just here. Maybe you were just here. Wherever you are today, though, take some time to go out and enjoy it. Make time stop for you. Remember why you're here. Breathe in the aromas of summer—thinking more of the way the water smells when it comes out of the hose and sprinkler, or the lilacs or fireworks smoke.
They don't seem to last long, these days. These long, long days.
Elsewhere
It goes with that up there a bit, but what do you remember doing when you were here? Did you get to stay for the summers?
The reason I ask is that I want to introduce a new feature for TechAlum, tentatively and uninspiringly called Places. You see, back during Winter Carnival, I did some live blogging, letting people tell me where to go and what to photograph.
Let's do that all year 'round!
Tell me where your favorite spots were—anywhere on the peninsula is fine—and I'll go take some shots and write about what it looks like these days. For those of you who haven't been to campus in a long time, there's a lot that has changed. Heck, I moved here in 2007 and a lot has changed in just that time!
I'm also extra-willing to go anywhere you send me that happens to have pizza. Just sayin'.
And….
Another amazing haul of news down below from our twin towers of technology, uh, news. Couldn't make the alliteration work, sorry. Allison and Mark have been very busy again this past fortnight, and I've got them linked below.
You aren't going to believe the story in the mailbag about SYP. And if you have any relationship stories like this to share, please send them along!
Sports news is a bit quiet right now, but we'll do our best to keep you up to date with anything fun and exciting there. I want to wish a hearty congratulations to Austin Roy, former Huskies football player—and once a student of mine—as he has signed for the Toronto Argonauts. Guess I can't only root for the BC Lions anymore, Austin!
And if there's anything you, as alumni, need, there's a whole crew of amazing Alumni Relations staff who make all of this possible. They've been great at helping me get me feet under me here at the writing desk, and I know they're full of answers and assistance—so feel free to ask!
Finally, if you haven't made your plans for Alumni Reunion yet, well, what are you waiting for?!? How else are we going to meet? Seriously, I know from speaking with faculty, staff, and students that we love having our alumni around. You have knowledge of this place, as a group, that far outstrips those of us who are here. We're always up for a hello and a chat.
Or, like I said above, going out for pizza.
Thanks for reading.