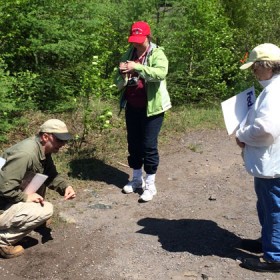 As an archeological dig around a barn continues, other pieces of the past are emerging across four generations. It's year four of the Department of Social Sciences' work in the Cliff Mine area of the Keweenaw.
PhD candidate Lee Presley is leading a handful of students in the barn dig under the watchful eye of Professor Tim Scarlett. "Discovery" is an obvious name for this work; "questions" might be another.
At the barn site, a piece of fabric elicits surprise and a suggestion of a possible use. "If this was a cistern, was the fabric used as part of the construction, between wooden structures?" asks Scarlett. "At this point in the life of the Cliff, perhaps the 1870s, it was more bust than boom, so they were reusing items."
Other questions surround the work. "We think these re-used bricks are part of a curved drainage system," Presley says, "to get water away from the structures and toward the Eagle River. But, why the curve?"
Prominent in the long, narrow hole is a bar running across its narrow width. "A hinge strap from a barn door," Presley says. "We found a similar one last season."
She says, over three years of digging, the participants have discovered artifacts from distinctly different areas: industry (a large staple that would help support mine timbers) office work (ink bottles, pipettes) and home items (cups, plates, clothing including belt hardware, suspenders, shoes).
They'll go high-tech in the dig, Scarlett says, with LIDAR. Collaborators from electrical engineering and surveying will produce high-res images that will be able to reveal subtle changes in the landscape, from possible roadways to that pesky drain, where the cold water would show up well.
As for that fabric. "After it's stabilized, we'll use silicon oils to clean it and figure out what kind of textile it is," Scarlett says. "If it was a cistern, it would have been made of charcoal and fiber filters near a pump head at the bottom. Was it more recycling?"
As we speak a rib bone is moved, revealing a ceramic bowl beneath. "This must be how gold prospectors feel," says one of the students.
Family Connection
"There's great joy in getting down to how it came to be," Presley tells two special guests. Constance Currie is accompanied by her daughter Christine Cox. Currie's great grandfather was Henry Warren, who leased the mine at the turn of the 20th century. She hasn't been to the site in 65 years.
"Of course it's all grown up and the rock piles look smaller," she says. She's kept alive the family history, and she hoped old photos would help Scarlett find the location of an old family home. Her grandmother was pictured in front of the old structure, now gone.
She's kept alive the family history, and she hoped old photos would have helped Scarlett find the location of an old family home. Her great grandmother was pictured in front of the old structure, long gone. But Scarlett says she is "quite possibly providing a Rosetta Stone that will help us unlock the 1880 census records, so we will know who lived in which house."
Scarlett says Currie connected with other descendants of Henry Warren as she and they read the research team's blog, (http://cliffmine.wordpress.com/). As students uncover the history of the mine and its community, they share details with readers, who, in turn, leave comments about family lore that help the research. The blog also points readers to the Michigan Tech Fund, where they can donate in support of the research. Forty to sixty percent of the project budget comes from these gifts that support student researchers.
The Warren family home was actually the old mine office, as evidenced in photos by a missing wing of an L-shaped house, and proven via aerial shots, maps, blueprints. Scarlett has indeed narrowed down the location.
"We know it was located by the old schoolhouse," Scarlett says, pouring over maps. As we all walk toward the location, Currie recalls, "sitting on the cliffs and looking down from above." Up those cliffs was the location of the mine and its works.
Walking further, we come to the exact location of the old home.
"So, this is it?" Currie asks. It was an odd location, because it was actually an old roadway that had a later life when Calumet and Hecla Mining Company used the area for some of their operations, all the way into the 1960s. That compacted roadway will help preserve what's underneath, Scarlett says.
"Won't that be hard to dig up?" Cox asks.
"We archeologists can get through anything!" Scarlett replies.
It's part of the next phase of work, and Scarlett and his team are anxious to dig in and see what they can find. He'll be sure to pass along any findings to Currie and Cox, and they'll be able to discover even more of their past, part of the Keweenaw's copper mining legacy.
Image showing progress of mine project. Cliff Mine Project website.
Video of the same site, and some of the same people, from 2013.
Dennis '92 '09