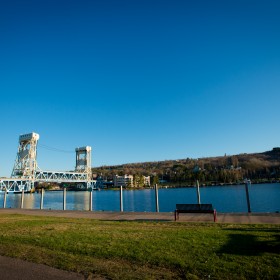 Father's Day is less than a week away, and that always means two things in the Copper Country: Dad and the Bridge. Bridgefest is an interesting event, like a Fourth of July pre-game show. And it's the big party before we start seeing a higher influx of tourists for the nice weather in July and August.
For the Fourth, the fireworks and parades and parties all happen elsewhere: Lake Linden or Copper Harbor or South Range or Gay. Here in town? It's a more subdued affair. We all wander away for the holiday, making our way back eventually. It's the same feeling I get with Alumni Reunion, the one I get with Bridgefest.
It's that we know we're coming back. Of course we are. The question is when, not if. With Reunion, it's as though we did all the warm-up stuff here in Houghton, then we go out for the big show, coming back eventually. The two parallel each other pretty nicely. We meet here a bit before the main event—your lives and careers—and then, in your own time, you make your way back.
You'll notice down below that the online registration for Alumni Reunion is now open. We'd love to see you come back this year if you can make it. Plenty has changed. And plenty has stayed the same.
Elsewhere
My solstice/Solstice visual pun worked far better than I could have imagined; check the email bag for a couple of interesting responses.
Also, I'm getting some great ideas in for a regular column on the Places of the Keweenaw. Keep those coming and I'll kick that off later this summer. If there's any place that was a favorite, and you want to see what it looks like now, I'll troop on out there, take some photos, and give a write-up. Just tell me where to go!
The following came in from our geology friends as Bill Rose is offering some fascinating geoheritage tours. If you're in town early for reunion, check them out!
Keweenaw Geoheritage Tours by Water and Land – July 27-30, 2015
Join local expert Bill Rose in reading the landscape to learn how the Copper Country came to be the way it is today. Each one-day field trip explores one of four major events in Earth's history that make up the strong geoheritage of the Keweenaw – Lavas, the Keweenaw Fault, the Jacobsville Sandstone and Copper Mining Waste of Lake Superior. Participants can expect to cover a lot of ground and be outside all the time. Travel is a combination of van transport, short walks, and trips aboard Michigan Tech's research vessel, the Agassiz. Trips are limited by boat capacity to 17 people. Each trip costs 5 and includes lunch, snacks, and boat and van transport. For more information, trip descriptions, and registration please visit our website.
For specific questions, please email Erika Vye at ecvye@mtu.edu
We never seem to be too far from a Career Fair, either.
Hi Kevin, when is the next career fair?  I need to hire some graduating geological engineers to come work in California!
I know this one! The 2015 Fall Career Fair is set for September 29. Stop by and say hi if you make it into town for it. I'm usually up at the SDC working on a story during the fair itself, but I'm kicking around our offices in Admin otherwise. Would love to see you.
And finally, the amazing Roxane Gay, PhD alumna in Rhetoric and Technical Communication, continues to make all sorts of noise. Check out her appearance at TEDWomen 2015. If you've haven't had the pleasure of meeting Roxane, she's sharp, witty, funny, bitingly critical, and with her finger firmly on the pulse of our culture. I also once attended a surprise birthday party for her. Trivia.
Thanks for reading.