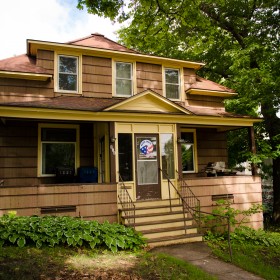 It's one of those odd times of the year here in the offices at Tech: many hallways are empty, and searching the calendar for who is out on vacation becomes an essential. Considering that for most of campus so much work is tucked into nine months, that means these bits of summer make for some scheduling chaos. That includes me. I'm actually typing this on Saturday.
Granted, not everyone is out and about all the time. It's go time for our Summer Youth Programs staff, bringing hundreds of young students to campus every week. It's become such a big thing, and the students get so much out of it.
Another group that is hard at work includes our Peace Corps Masters International students, out serving and learning at the same time. I don't know how many of you have experience with the Peace Corps; if you aren't familiar, it's 27 months of service overseas, and this is combined with graduate school.
I've gotten to know some of the students from PCMI, and they are, universally, excellent leaders, communicators, and idea generators. It must be some experience, and the program at Michigan Tech happens to be the biggest in the country—for the last ten years. If you've got a moment, check out the map on their main website, too, for a sense of how many places there are around the world where our students have served.
There's going away for school, and then there's this.
I've done most of my vacation time for the summer, and I can't say I've accomplished anything quite this important. Then again, I don't know that I've done that much with a lifetime's worth of vacation. Amazing stuff.
Elsewhere:
Alumni Reunion is quite soon, so much so that the next issue of TechAlum will be the wrap-up for it. I hope you can make it up this way, regardless if you're in the area or somewhere around the world. It would be great to put more faces to names.
We're working on a story, in fact, about the changing face of the economy up here, the way that employers are starting to discover the advantages of locating offices up here. So many of our students would love the opportunity to stay in the Keweenaw, and that's becoming more and more likely. Look for that feature coming soon.
I won't keep you too much longer: it's much better to spend some time outside this time of the year, so maybe we should all take a walk? But check out the news this week, an entire smorgasbord of stories from Tech's campus in Houghton. Our news staff had been out a bit prior to last issue, and it probably showed with just a story or two. But they're back and pounding away at their keyboards. Fascinating bits, these.
Something came in via email that might interest you, too:
My name is Edd Benda, and I am the writer/director of the feature film SUPERIOR that was filmed last summer in the Keweenaw. We are hosting our Official Michigan Premiere of the film at the Calumet Theatre. We have screenings on Thursday, 7/30 & Friday, 7/31 @ 7:00pm. The event is free and open to the public. There are more details on Facebook.
Our film takes place in 1969, and we proudly showcase the beautiful Keweenaw Peninsula. It would be wonderful to be able to share the film with the wonderful Tech alumni network that hold the region so dear.
If you're in the area, make sure to check it out! I love the Calumet Theatre, too, and I'm always happy to find another reason to go there.
Finally, if you haven't had a chance to register for Alumni Reunion yet, check out the link below in Alumni Around the World. Loads to do. And we're all looking forward to seeing you.
Thanks for reading.