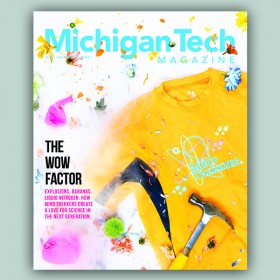 Our alumni continue to inspire, create, and invent. Read about them in the latest Michigan Tech Magazine.
Here's some of the great stories in this issue.
Going Long: Eleven years, nine winning seasons. Tom Kearly reflects on the program he built and what's ahead for the Huskies.
Next Level, 10X, Crushing It: Four days. Twelve visits. Twenty-eight hours of company tours. Huskies claim Silicon Valley during 14 Floors Bay Area.
Keep on Trekking: The yellow shirt lives on. Mind Trekkers alumni return, sharing the wow of science, technology, engineering, and math.
And, as always share your news! Post your class note and photo online at MyMichiganTech or email alumni@mtu.edu. New addition to your family? Let us know. They will receive a special gift from Blizzard T. Husky.
Sarah