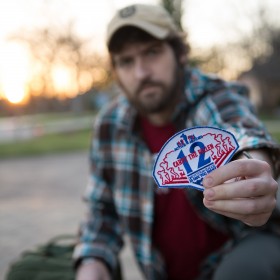 The latest issue of Michigan Tech Magazine will be hitting mailboxes shortly. I wanted to share some background on the cover story with you.
It was almost a year ago that I first spoke with Justin Fitch. He was traveling through Pennsylvania, going from work in Boston to where he was about to buy a home in Wisconsin. And he quipped that Pennsylvania didn't seem to like his phone.
We were cut off four times in our conversation.
Frankly, I needed those breaks. Justin has terminal cancer and we were talking about veterans who have attempted suicide—two topics that hit rather hard. If you've ever conducted an interview, you probably have been in that spot where you just don't know what to say, everything in your vocabulary sounding weak and trite.
I'm not a journalist. I have some training in it, but it's never been my job. Everything I had to say felt insignificant, but Justin had that covered, too. He carried the interview. He told me about the 22 veterans who take their own lives every day, and how we need to make that number zero. He told me about the network of support created by Carry the Fallen, a part of Active Heroes that holds ruck marches—essentially long walks with a very heavy pack on your back—to raise funds and awareness.
Justin's trying to do a lot to help carry his fellow veterans with the time he has left, too. I won't scoop the magazine story, but the work he's doing is incredible. Just a week or two ago, an online appeal went up on GoFundMe with a seventy-eight thousand dollar goal. That was to build the first cabin at the veteran's retreat Active Heroes is constructing in Kentucky.
It took about four hours to blow through that goal. As of my writing, the total is around three hundred thousand dollars.
It takes a ton of character to devote the time you have left to the service of others. I don't know that I could be that strong. But the story you'll read is real, the work is important, and the man is incredible.
Justin Fitch has had a major impact on me. And the last thing he said to me when we were finishing the interview?
"Is there anything else you need?"
He's asking me that?
Justin will be given the Humanitarian Award at Alumni Reunion. More than well earned, that.
Elsewhere:
Let me start down here by apologizing: I've got my assignments rather piled on and I didn't get out to Hungarian Falls this week like I said I would. I'll do two for next issue to make up for it!
On the plus side, Nathan Miller, a 2010 graduate, works for the Keweenaw Land Trust and has a great update on Hungarian Falls down in the mailbag.
Pardon my tooting our own horn a slight bit, but our news writing team won an award from CASE, the Council for the Advancement and Support of Education. A couple of my stories even snuck in there! Maybe that's why we didn't get the gold…
There are a number of community events for this year's Reading as Inquiry book coming up. If you can make it here a bit early for Alumni Reunion, there's an event on August 5 in the Van Pelt and Opie Library at 2pm. There are also events in Hancock and Copper Harbor a week later. The book this year is the brilliant Nothing to Envy: Ordinary Lives in North Korea by Barbara Demick. It's an excellent read if you haven't heard of it, lending a fascinating perspective on a population living somewhere between the Orwellian and the absurd.
If you're in town a bit sooner—say, this Friday—you might see a bunch of Tech alumni as Sigma Phi Epsilon is having a rededication ceremony for their chapter. They're expecting around 400 alumni and family members as they celebrate 50 years of being a local chapter. There's also a nifty event going on in Hancock, with live music and food galore down the main drag.
And finally, you know the middle of summer is upon us when there are no baseball games either yesterday or tomorrow. How are we at the All Star Game already? Wasn't it just Opening Day?
Thanks for reading.