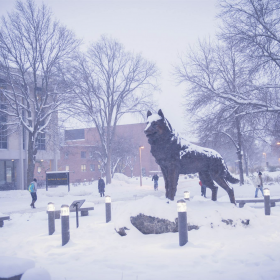 There's a lot of snow here in Houghton. So far we've had more than 110 inches this season. The white cold powder continues to pile up as students make their way back for the start of the spring semester. In the meantime, there's skiing, snowshoeing, sledding, broomball, and more to enjoy in this winter wonderland. And, soon we'll start to see the Winter Carnival statues grow. Save the date for this year's Carnival, February 8-11.
Let me know what the weather is like where you're at, Huskies.
Good news for Tech and the community. College Magazine ranked Michigan Tech the safest college campus in the nation, in a ranking released of the 10 safest college campuses. Read the article.
The Hockey Huskies traveled to the Great Lake Invitational and to Ice Vegas Tournaments during the break. Tech lost to Arizona State at Ice Vegas title game. Did you go to any of the games? Let us know. Tech has next weekend off before hosting Alaska for a WCHA series on January 19-20 at the John MacInnes Student Ice Arena.
Until next time,
Sarah