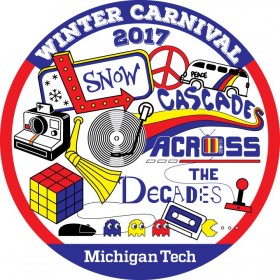 As you know, Winter Carnival is one of Michigan Tech's most anticipated events. This year we celebrate as Snow Cascades Across the Decades.
Along with the fun and traditions—statues, skits, hockey, and fireworks—is enjoying everything safely and responsibly.
Recently, a group of Michigan Tech staff and students, led by Associate Vice President and Dean of Students Bonnie Gorman, took a creative approach to getting out the message:
Be Safe. Don't be Dumb, You're a Husky After All.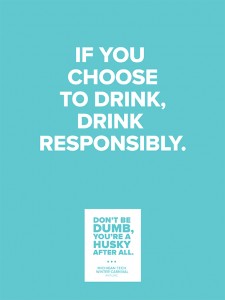 "We used the book Creative Confidence by Tom and David Kelley to help guide us through our discussions," Gorman says. "It provides an energetic take on problem solving—starting with the human experience. The Kelleys argue that humans are the core of the innovation process and often aren't considered until after the the fact, if at all."
Working together, the team—seven staff and five students—completed a number of exercises aimed at creating messages encouraging safe behavior during the Winter Carnival season.
One of those students, Magann Dykema, a third-year civil engineering student found the experience to be incredibly positive.
"In working in the group to develop the campaign and messaging for Winter Carnival, it was a great experience to be able to work with staff members as well as other students here at Michigan Tech," Dykema says. "I loved the atmosphere in the room from meeting to meeting as we developed the message; there was excitement and laughter in every meeting. Everyone in the room was encouraged to share their thoughts and not be afraid of the seemingly ridiculous ideas. I felt like I didn't have to be afraid to share my thoughts; rather, I felt like every idea I shared with the group would be accepted.
Gorman recognizes that having a few drinks is part of the Winter Carnival experience for some. Her hope is that alumni will be smart, be responsible, and set a good example for current students.
"We want alumni to return and enjoy the traditions of Carnival," she says. "But, we want everyone to take care of themselves and others. Stay hydrated (that means water), stay warm, and if you choose to drink, do it responsibly."
One of the tools created by the group was a series of videos for students and alumni that show students talking about how to stay safe during Winter Carnival. You can see a sample here.
We look forward to welcoming you back to Michigan Tech for Winter Carnival.