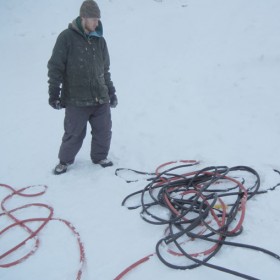 Sunday afternoon found a small number of student groups out working on statues. It was 6 degrees and very windy. All three broomball courts were hopping, however.
Army ROTC  had a good turnout, and they said Air Force ROTC, always located near them, was out earlier.
"We're on our fourth hose," said Kevin Erkkila, a third-year computer science major from Midland. "We keep bringing them inside to thaw out."
Like all the groups, they had missed four days because of the cold, and they were trying to make up ground (lost under 30-plus inches of snow). Blue Key rules don't allow students to work in -18 F windchill. A good rule.
The Sig Eps were lamenting a small detail structure that tilted over from 40 mph winds.
"Even if we just take it apart, that takes time," said Jordan Pontini, a fourth-year MSE from Battle Creek. He vowed to "keep pushing." The lost days forced them to reconsider some structure work, and they'll focus on details, making it all look good for the judges that Thursday morning.
The Delt Sigs had hose troubles and some structural problems, too.
"We're still doing pretty well," said Cody Campbell, a fifth-year biochem major from Imlay City, Mich. "We've got a leaning wall that we'll shore up with front supports and wings to stiffen it." The depth of snow was such that they couldn't dig to the ground for a base.
The Phi Taus had a good number working. Michael Braun, fourth-year chemical engineer from Pinconning, remembered having to truck in snow on the very first week back last year. No problem with that this year. "Plenty of snow!" he said.
A full slate of broomball games were under way at their 5:15 p.m. starting time. A little dusting of snow and the deep chill didn't stop the players. It was worse just watching, as a good number of students were doing.
Overheard from different groups:
"I can't play, I strained my knee."
"Well, maybe we just focus on our last game and not the score of this one." Laughter.
"Are you ready for the big playoffs?"
and the ever-present: "Goalie, 5-4-3 . . ."
The organization of this sport, including all those refs and scorekeepers, is a source of amazement. Maybe it shouldn't be, though. If the students do it, it's going to be done right.
Any broomball memories? Email me. And don't forget the first outdoor Alumni-Student broomball games at this year's Carnival!
Dennis '92 '09
***
Snowfall Totals
Our snowbank is 25 feet wide.
Keweenaw County numbers.
Keweenaw Research Center  totals.