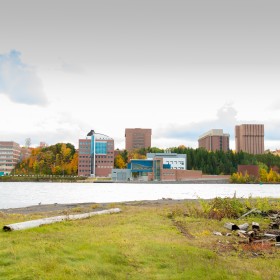 There are a hundred things I want to say, I want to share, that I'm excited about as I have a seat in the editor's chair for TechAlum. But this publication isn't about a person; it's about our community of alumni, about the things we're all doing. So I'll just start with something short and simple.
Hi. My name is Kevin.
I'm a 2012 PhD recipient in Rhetoric and Technical Communication from the other end of campus in the humanities department, and I've worked here in Admin for University Marketing and Communications for a bit over two years now. I'm at Tech because, hand on heart, I believe in what we do here. That's not my marketing voice; it's honestly how I feel. What our students do while they're here, and what you've all gone on to do as alumni, leaves me in awe.
I owe a massive debt to Dennis Walikainen and the way he has kept our alumni community connected for so long. Dennis was in the office next to mine, where we often had a morning chat on baseball or football, depending on the time of year. I can't replace him; I can only succeed him.
I have a different view of Tech than most. Not just out my office window, though that's a bit different as well. Some sky, some tree, some concrete wall. It's nice to get a peek at the very occasional flash of sunshine in the middle of winter. My plants are even happier about that.
No, I'm very lucky for my view of Tech as a writer. My job is to capture what's going on here for a variety of publications—I'm chief writer for the School Business and Economics magazine Impact, I write some news and some narrative for our news site, and I do some odds and ends articles for some of our other publications. This lets me be all over campus, exploring every building, meeting interesting new people, and hearing about research and innovation that just blows me away.
In addition to news and notes from around campus and from our alumni community, I'll share with you life on Tech's campus as I experience, a bit of a taste of home. You'll never believe it, but it's cloudy and lightly snowing at the moment. There are thousands of stories here in Houghton every day. I'll capture some bit of that flavor and share it as best I can.
Is there something or someplace you'd like me to report back on? Feel free to let me know at the usual address. Any comments or questions are most welcome, too, and if you happen to be on campus, please stop by G14 of the Admin building and say hello.
Thanks for coming with me on this ride. The view will be a bit different. But we're still going the same place.
Updates from here:
The broomball rinks are in full operation, starting early in the morning and the lights still blazing away well into the night. We got an update from Red Current in the Twin Cities about corporate broomball, and alumna Sara Nurmela is representing us well. Also note that she did, in fact, get to drive the Zamboni.
You can find Sara Nurmela at the Wells Fargo WinterSkate rink nearly every weekday in the wintertime. Instead of staying indoors for lunch, Nurmela bundles up and heads out to the Landmark Plaza in downtown St. Paul to ice skate.
"The two months the rink is up makes for my favorite lunch breaks of the year," remarked Nurmela, a Woodbury resident who works for the city of St. Paul. "Unless my schedule is too busy or the weather is too cold, I'm out there! I appreciate that I've met people from different companies downtown and become friends with them over the years. The Winter Skate staff is also fantastic, I feel like I've gotten to know them, too."
On weeknights, skaters are asked to clear the rink at 4:50 p.m. for youth hockey and corporate broomball teams.
Nurmela plays on one of those corporate broomball teams, the Green Tree team. Seven years ago, one of the Green Tree Servicing team regulars asked her to play, and she's been on the team ever since.
"Broomball is closely related to hockey—but is generally less expensive," said Nurmela. "It's a fun team sport that people of all different abilities and sporting backgrounds can be involved in. Having coed teams helps to make it fun, as well. Running on ice levels the playing field, which makes the game about passing and teamwork."
She started playing broomball in college at Michigan Technological University in northern Michigan. A rink set up by the dorms meant that broomball was a popular activity nearly everyone was involved in — "almost a rite of passage for living in the dorms," recalled Nurmela.
"Although broomball makes me miss hockey, I really appreciate being able to be involved in a team sport," she said.
Check out below for some updates on the alumni presence at Winter Carnival's broomball tournament!
Sad news reached us last week that Rudy Greuer, professor emeritus in mining engineering, passed away. He came to Tech in 1967 and retired in the late 90s. More here from his son Wilhelm '97 '06:
Having worked as an engineer in the mining industry around the United States for the past several years, I have encountered quite a few Michigan Tech mining alums from as way back as the early 1970′s who all unanimously agree that Rudy was their best prof at Michigan Tech.  I often run into Michigan Tech alumni who inquire about Rudy, I am sure there would be a few mining engineering alumni out there who would want to know of Rudy's passing.
Any memories of Rudy jumping out to you? We'd love to hear them.
Finally, as I'm writing this, the northeast is on the receiving end of an epic blizzard. I had images in my head of something like Buffalo not too long ago, but they're talking about two feet of snow. I seem to remember just calling that "Thursday" not too long ago. So how about it, alumni on the East Coast? Let us know how this storm shakes out and if your time in Houghton helps you get ready.
Plenty more to scroll through from here. The soundscape story in the forestry building is an interesting news item, put together by our student writer Monica Lester. There's also a new way to look at university rankings—and Tech's looking pretty darn good—based on social mobility, hockey's coming off of a sweep of Alaska and is back in the top 10, our ski team is picking up podiums left and right, and Winter Carnival is coming up over the horizon. Please enjoy, and as always, let us know what you're thinking at the usual address.
Be well. I'll be in touch.
Best,
Kevin