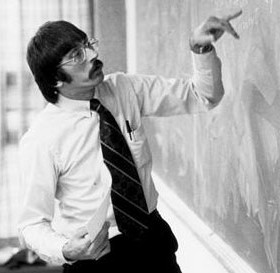 In the third of our series on retired profs, we chatted with Anton Pintar, professor emeritus in chemical engineering. He was lamenting the winter that has all of us shaking our heads in disbelief, and he was contemplating cleaning off his roof again.
He has kept busy by being elected to the Houghton County Board of Commissioners, where their biggest issue, like everywhere, is keeping a balanced budget with dwindling state revenue sharing.
"One of our biggest accomplishments is the new transfer station in Atlantic Mine," he said. The new facility allows residents to environmentally dispose of refuse from their homes and businesses.
A "Range Towns" resident since birth, he still lives in Painesdale.
He stays active with academia through the American Society of Engineering Education. He's been secretary of the math section since 1996 and attends annual meetings in locales from Vancouver to Hawaii.
He's also active in the local Copper Range Historical Society and efforts to save the Painesdale Shaft No. 4.
On campus, he was most proud of a major accomplishment: the safety procedures for chemical processing and the Unit Operations Lab.
"We started them back in the 1980s, before Bopal even," he said, referring to the gas leak disaster in India in 1984. "The program is still going well. I stay in touch with Dave Caspary [manager of lab facilities for chemical engineering]."
He was also the advisor of the American Institute of Chemical Engineers (AICHE) student organization for many years. He  won the Michigan Tech Distinguished Teaching Award in 1981.
He misses teaching, he says, especially the contact with the students.
But, "I don't miss giving out exams."
***
Snowfall Totals
As the slideshow above reveals, we had a doozy last week. Local schools were closed Monday and Tuesday, due to windchills, and other UP schools were closed Wednesday and Thursday.
The combo of snow and cold was just awful, as we cleaned our roof and deck, again this weekend, when it warmed up and made everything heavier.
Keweenaw County numbers.
Keweenaw Research Center  totals.