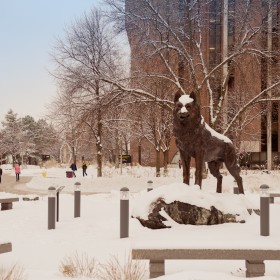 As you've seen at the top of TechAlum each issue, I've been home dealing with some health issues. The good news is that I've made some progress, but the bad news is I've got to continue working on them full time. And that means retiring from Michigan Tech and TechAlum.
For over thirty years, I've often written about the Michigan Tech family, whether that was the faculty and students with whom I've worked, the staffers and administrators I've gotten to know across campus, and especially my colleagues here in Marketing and Communications.
But becoming an alumnus and meeting so many of you through TechAlum and in person have been my career highlights and another extension of my family.
I came to Michigan Tech initially as a local, through Huskies football and hockey. In the 1970s, those were great times, and Tech has returned to those levels of excellence. You can add basketball, volleyball, and soccer into that mix.
Seeing my family become alumni was my personal highlight. Nothing beats walking across that stage until you see your wife and son and daughter do so. Wow! And we have many other family alumni, too.
But, I'll miss my alumni family. I'll miss the visits with Frank Shoffner and John Baker. I'll miss the great emails from Kerry Irons, Joe Dancy, Les Reid, Greg Switek, Bill Deephouse, Don Kohlemainen, and I'm going to forget so many that I'll just apologize now. I've got to give a special shout-out to Joe Kirkish for his friendship, encouragement, and photos over the years.
I'll never forget Doc Berry stories, the Thanksgiving drive of '85, the GLI get-togethers, Tech closing (or not) for weather, and the difference between a Convair 580 and a DC-3! And your love of music and concerts at Tech. Wow, I thought it was just me!
And of course getting corrected (see the airplanes above) was such a funny occurrence that I often said I should just make mistakes on purpose, so I can get all the great responses. Not to worry, I made plenty of mistakes unintentionally!
For ten years, I've told everyone that this was the favorite part of my job, and I know that will hold true for Kevin Hodur (another RTC grad) as he takes over. I inherited something great from Dean Woodbeck and, with great support, was able to make changes and improvements. I know the same will hold true for Kevin and his support team.
After all, you deserve it. You are Huskies.
Proudly, I am, too.
Dennis '92 '09
P.S. And a big "thank you" to my editor at home. I couldn't have done any of it without you.