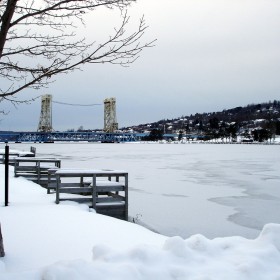 And Houghton! These Keweenaw destinations were vacation spots for me and my family for years. Places where we came to escape the flatlands of Illinois and reconnect with nature.
The Copper Country sure is a magical place.
So when the opportunity to work at Michigan Tech presented itself, I said yes! My husband, Ryan, and our three children Hannah (8), Andrew (5), and Amelia (3) arrived last month. While playing in the snow, my son said, "Mom, it's like Christmas every day here."
Indeed it is.
I'm honored to be a part of the Huskies family, serving as the new editor for TechAlum and a writer for Advancement and Alumni Engagement.
I'm sure along the way you may hear about my family and our adventures. But for now, I want to hear your stories—memories of Michigan Tech, favorite places, classes, professors.
To start this journey, I enlisted the help of Dennis Walikainen '92 '09. You probably remember Dennis, who served as TechAlum editor for many years, bringing the University to you through this newsletter.
In retirement, Dennis keeps busy reading, listening to rock and roll, and serving as curator of the International Frisbee and USA Guts Hall of Fame, located in Calumet, Michigan.
He's also enjoying his grandchildren who live five blocks away. "It's beyond cool," he says of being a grandpa to a 3-year-old and a 3-month-old.
Since I'm new here, I asked Dennis for the best adventure spots around.
Here's Dennis' picks
Snow: "Find something to do in the winter here." Cross country skiing, downhill skiing at Mont Ripley, snowshoeing, ice skating, hockey games.
Great drives: Covered drive in Houghton, Sand Dune drive, Gay to Lac La Belle
Visit: Pilgrim River watershed, Sturgeon River, Michigan Tech Trails, Maasto Hiihto Trails
Now it's your turn. Send your favorite places or things to do in the Copper Country. I will include them in our Keweenaw Bucketlist series, sharing the beauty, energy, and activities of this place I now call home.
Can't wait to hear from you!