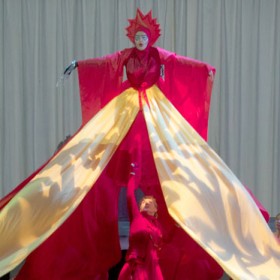 It was set in a small Michigan town in the grip of an endless winter (we could relate), thanks to a spell cast by an evil witch. The visual and performing arts department presented Rose and the Rime recently, and it was a marvel of special effects, sound design, and aerial artistry.
Directed by Associate Professor Patricia Helsel, the story unfolds as Rose, played by Paige Borel, hears the story of her parents' demise and the perpetual winter  brought about by the Rime Witch, played by Niloofar Skirkhodaei. The secret is to recover a magic coin from the witch and return it to the town, Radio Falls, which is located on a Great Lake.
Radio, and clever Tech technology, play prominent roles for the duration. The sound of static on the radio is replicated in distorted images on screens and tapestries. Winter images are portrayed as wind howls through the theatre. (A low-tech Yooper scooper also makes a cameo appearance.)
At one point, Rose's caretaker Uncle Roger, who runs the radio station, reaches out to the world. "Help! We are trapped here." His signal breaks up.
The most amazing part of the play was the aerial movements, high above the stage with no nets, of the "Dance Corps" swirling in their tapestries. They are upside down at times, and the play takes on the tone of the Cirque du Soleil, minus the Soleil, especially with percussion-dominated music.
The music signalled important changes in the play: ambient music with wind and rumbles as Rose journeys closer to the witch. Later: acoustic music, played live by the actors, introduces the long lost spring.
Rose brings about that spring by getting the coin from the witch, and initially it brings warmth and joy to Radio Falls. Rose even weds one of two brothers who discover this now-warm, scenic place. Their child is stillborn but brought to life by the coin.
Eventually, the coin brings about jealousy; violence; the end of Rose, her husband, and uncle; and another endless winter. Only two remain: the baby and her uncle, who discovered her after the final melee. As the play ends, a cycle of life begins anew in the midst of a "beautiful" winter.
Kudos to Helsel and all the actors, athletes really, and the incredible special effects and sounds. We were lost in it all, as we got a brief glimpse of spring on a February night.
Snowfall Totals
It's not just the snow, it's the cold. We closed at 2:00 p.m., Friday, due to the latest blizzard. No, not Blizzard (speaking of, see below).
Keweenaw County numbers.
Keweenaw Research Center  totals.