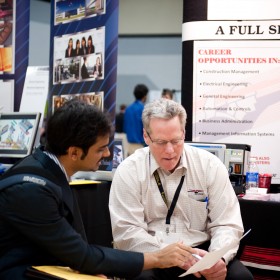 There are a lot of days I envy the students here. Not in a bad way, not like brooding jealousy. More like a kind of admiration. They have so many opportunities, ones I wish I could take advantage of now. It's one of the reasons I'm so grateful to be here, and also why flipping through the course catalog is so much fun as an adult. Because that sounds interesting. And that. And that. And the thousands of students here are walking across the tundra-like campus—I'm writing a lot of this on Thursday, Feb. 19, and it's -7 a bit after noon—going from opportunity to opportunity.
Career Fair was the past week, and it's definitely a time I'm envious. This time that walk to opportunity is up the hill to the SDC. Perhaps you remember it. That some of them are making that walk in dress shoes and not falling on their faces—as I would—is a testament to their toughness. Or balance. Or broomball experience.
More than 240 companies were on campus for the spring edition—and this is the smaller of the two Fairs. Walking up and down the aisles in the Multipurpose Room, it's hard not to be impressed by how prepared all of these students are. Resumes in folios, formalwear fitting remarkably well.
Granted, they're still nervous.
You can see it in their straight backs, looking down at hands before they shake them, a smile more of professionalism than comfort. Hey, they haven't done this before. So they're doing pretty darn well at it if you ask me.
The reason it's easy, from a mid-career perspective, to find it a touch amusing is because so many of these same company reps are actually alumni themselves. Many of you reading this, in fact, have probably come to campus the same way.
That means my favorite conversations are the ones where the alumni reps kind of become mentors to these budding employees. Here's what you're doing great. Here's what needs work. Here's where to go from here. It very much has the feeling of everyone pulling in the same direction. Our students want careers, and these employers want them.
Being there as neither an employer nor a student is a bit of a treat. I get to just observe. To see just how many retractable banners can fit on one table. To see the contrast between formalwear from students and branded polo shirts from company reps. To see the student-athletes slightly bewildered looks as they try to navigate to practice or workouts.
I also love seeing what free goodies companies bring with them. Branding is important, and if you can get an object into a student's everyday life, you're going to stay on their mind. The offerings have gotten pretty good. Smart. Here were my favorites this time:
CN brought back their foam rubber locomotives, a personal favorite of mine. A rep gave me one last time, and you can see it on my desk here in my office—please come visit! I used to see such toys from all of the railroads, but CN was the only one this time. Marathon Petroleum had foam rubber trucks and gas pumps. No, I didn't snag them. This time.
Gerdau and Jackson National Life Insurance both brought snow brush/ice scraper combos. That's genius right there. I'd love to see a brush/scraper combo that's built onto a pair of gloves. Scraper on one hand, brush on the other, like a winterized Edward Scissorhands. Can I get money from a vaguely annoying reality TV show for it?
Kimberly Clark had a remarkably colorful booth, covered in their products and bright packaging. They also had Kleenex packets, which was perfect for a February day. And five-pointed highlighters. Because who doesn't like highlighters?
Continental had beverage bottles that looked really nice. A few other companies did as well. I wasn't able to write all of them down, as looking down to write in a crowded room can be iffy. Especially as I have a habit of pacing while writing. Don't want to take out someone's display or damage a suit.
I think it was Rockwell Automation that had pizza cutters. That's some college intelligence right there. Now I want pizza.
But it was also the booths that had equipment, displays, information that kind of overwhelmed me. I had the chance to speak with Eric West from Pieper Electric for a few minutes, giving me a sense of just what these students are signing up for. Here's a Milwaukee-based company, doing projects like wiring Miller Park—spring training has started!—and it's the kind of place our students can go. These are the projects they work on.
Or, for many of you, that you work on.
I have 26 letters at my disposal, and I keep working them until they mean something. With all of the tools our students have at their disposal, from Career Services to Learning Centers to broomball refs, they have a ton of combinations to put together.
That's what I like most about going to Career Fair. You walk out of there, you see the slight smiles of the students who know they've nailed it. You know they're moving on to interviews the rest of the week. And you know they are about to get out there and start doing.
There's a kind of magic in that, going from watching and learning to doing. It's an allegory of learning to walk all over again, and I got to see some pretty big steps last week.
What's New
As you probably know, we've had quite a bit of turnover in writers in our office. With both Dennis Walikainen and Marcia Goodrich retiring, as well as three others leaving for new opportunities, we've been getting help from some new people. One you should know is Allison Mills. She's our new science and technology writer, covering complicated, technical material and making it easy for the non-expert. It's a gift Marcia had so well—and one I don't possess—so it's good to have some of that science storytelling magic return with Allison. A couple of her articles are linked below. Drop her an email to welcome her if you get the chance.
Also, as you'll see below, hockey is up to #3 in the rankings this week. We'll get the new women's basketball rankings either later today or tomorrow; though the women lost one last week, that makes all of 2 for the season. Yeah, they're really good.
As always, drop us a line here at the TechAlum desk—it's more of a table, really—with whatever is on your mind. And if there's something we can do for you, let us know. Thanks for reading.