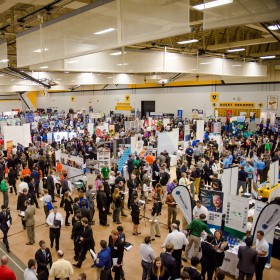 This issue of Tech Alum coincides with one of the biggest events on campus—the Spring Career Fair.
As you read this, our students will be packing the SDC, reviewing through their resumes, practicing their answers, and getting ready for some of the biggest conversations of their young lives. They're ready to create THEIR future.
What a big day!
If you've participated in the (even-larger) Fall or Spring Career Fairs, you know what a tremendous job Tech's Career Services does bringing hundreds of companies to campus for thousands of interviews with our crazy-smart students.
The record-setting numbers: 227 recruiting organizations, 704 registered recruiters, and 2012 interview slots.
The results: offers of internships, co-ops, and jobs. After years of study and hard work, our students start great careers at amazing companies from across the Midwest and around the world.
And another cool aspect of the day—over 70 percent of the recruiters are Tech alumni. It has to be a great feeling coming back to campus, and speaking with the next generation of difference makers.
For those students nervously waiting for their turn to speak to representatives from their dream company, we wish them all the best. Those long walks through the snow, and even longer study sessions are about to pay dividends.
And to those who have returned to campus, welcome back! You undoubtedly have a mix of pride and nostalgia this week. Congratulations on the success you've achieved, and best of luck finding the right people to join your companies.
Go Huskies!