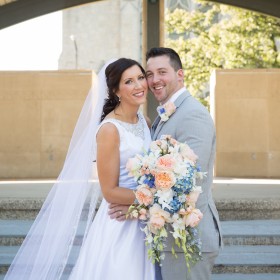 This past fall, Michigan Tech students told us what they love about their university and they shared the following: Winter Carnival. Keweenaw Peninsula. Snow. Lake Superior. Limitless opportunities. Great people. Community.
Now it's your turn! To celebrate Valentine's Day, we want you, our alumni and friends to share with us why you love Michigan Tech.
Through your own words share what you love about Michigan Tech. Maybe it's volunteering, mentoring a student, or gathering at an alumni event, we want to hear your story.
Newlyweds Joe '12 and Sarah (Sterling) '12 Gallo (pictured above), one of the 3,802 Michigan Tech twosomes, said they love running into other Michigan Tech alumni at their workplace, The Dow Chemical Company in Midland, Michigan.
Married October 8, 2016, the couple says they attend company alumni picnics where they have met many people who are connected to Michigan Tech.
"You talk to people at work and find out they went to Tech or their kid or someone they know who goes to Tech," Sarah said. "You uncover all of these Michigan Tech ties. It reminds you where you came from. All these people are still with you."
And, she loves the size of the campus. "It's not too small and not too big."
Joe, who is a member of the Michigan Tech Alumni Board, said he likes serving on the board because it "is a great opportunity to continue to be an ambassador.
But what does he love most? "You can take an average Joe and give them the opportunity to do anything they want," he said. "Tech gives everybody a fair chance to do something more than you did in high school."
Thanks to the Gallos for telling their Michigan Tech story. Send us your love here.
And to sweeten your day, everyone who posts a comment will receive an "I Heart Michigan Tech" sticker in the mail!
All comments also will be entered into a drawing for an "I heart Michigan Tech" prize package that includes a Husky statue snow globe, shirt, I heart Michigan Tech wristband, picture frame, mug, and luggage tag.
If you'd like to make a gift in honor of what you love most about Michigan Tech, you can do that here.