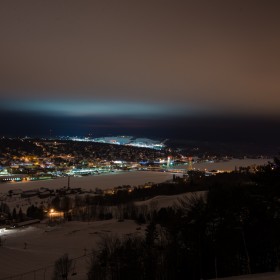 The statues have that thin layer of snow on them from a few days of lake effect. The details pop back into view with a good gust of wind, but it's the statues and the memories that remain of Winter Carnival 2015.
I could poll a thousand people, and none of us had the same Carnival. For me, everything centered around the All-Nighter. This is the third year I've worked through the night, cold fingers pecking away at a keyboard while trying not to fall on my face on the slick sidewalks. I have the easy job, of course. I'm not working frantically on a statue, outside for long stretches, able to hear the party but having to work. It must be what working at a theme park is like.
No, my job was definitely the easy one: go out and experience it and try to convey that with a jumble of consonants and vowels. We did a live blog of the All-Nighter this year, something we hope to be doing more of in the future. I want everyone to feel like they're here, whether they can make it or not.
The hardest thing to convey was the temperature. It was a cold one this year, and unless there is some USB peripheral that lets me shoot air off of Lake Superior at you, you'll have to rely on memory. The highest temperature I saw while out there was 5 degrees Fahrenheit. The wind tunnel next to the EERC was just as you remember it. In other words, all in all, a great time.
My tally for Winter Carnival this year also included curling and broomball. I'm annoyed I missed the Student–Alumni Invitational on Saturday night, though. I got caught up in the torchlight parade and fireworks—and being next to a toasty-warm fire—and not having eaten dinner yet at 830. Really kicking myself, because with eight teams, it was a great time.
So we wait another year for this to come back. A year of 10pm sunsets at McLain and paddling at Great Sand Bay. A year of mountain bikes and those blasted flies. There's a lot of good stuff between now and the next All-Nighter. But just like the day after Christmas, I wish time would go quickly so we can get that feeling back again. The spirit of Winter Carnival as well as the feeling in our extremities.
Today? Well, the sun was out for a bit, and they shaved the streets back, the remaining banks looking like wintery agates. We have a winter weather advisory, standard fare for mid-February. I'm hearing rumblings about Spring Break destinations. It isn't completely dark when I get into the office. Next week is Career Fair, so there's an entirely different buzz around campus. We'll welcome many of our alumni back to campus, representing companies and industries up at the SDC. It's not looking like we'll have a repeat of the blizzard from last year. Probably not. Maybe.
Some interesting stories from around Tech down below. Marcia Goodrich's piece on the North American plate is brilliant, and Suzanne Van Dam's work on glacial cave diving reminds us that H2O has a liquid form. I've also included the piece I wrote for this year's All-Nighter; in case you couldn't be here, it's hopefully a small taste of home. As always, hit us up for the mailbag at techalum@mtu.edu. See you next time.
And thanks.