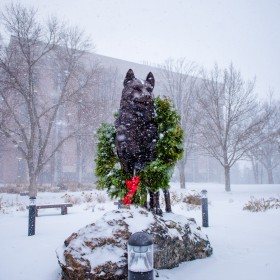 The semester is almost finished. Students are back from Thanksgiving break. December has arrived. And for some Huskies, that moment they've been waiting for: Midyear Commencement.
If you're interested in peeking in on this year's ceremony, we offer a live stream. Please join us at 10:30 a.m. (EST) Saturday, December 16. James Parm, a partner in Inc. CEO Project, is this year's speaker. Parm graduated from Michigan Tech in 1981 with a bachelor's degree in Electrical Engineering and has had a distinguished career leading international technology companies.
With December comes snow. And with snow comes the anticipation of Winter Carnival with "myths and tales of the past in our frigid forecast. Save the date for this year's event: February 7-10, 2018 and find all of the information here.
Finally, with the end of the year quickly approaching, it's a great time to support Michigan Tech with a gift. Our students create the future every day (just as you did). Your support makes that possible.
Thanks, Huskies!
Sarah