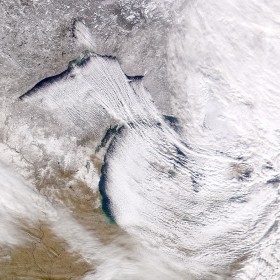 The debates have raged in the past. When did we close? Is there always a Thanksgiving Break storm? When were the worst?
We've been "lucky" enough to live through more than a few of these.
We drove through campus once and couldn't see the buildings from the road. A friend pulled into our driveway for Thanksgiving and was shaking from "white-knuckling it" from Marquette. We've seen it blow so hard the snow was shooting up as it was hitting the house. The front door was frozen shut by the dandy ice-snow mix. And then there's "thunder snow," which is just wrong.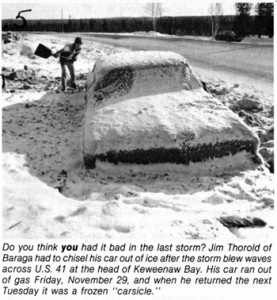 We had a decent storm come blowing in right after most of our students left for Thanksgiving break, thank goodness. It was more cold and wind than snow.
And how about those walks across campus? Heading back into the (usually) west wind, I often take the indoor route: cut into Fisher as soon as I can, take the new skywalk from Rekhi Hall to the library, shoot out the main entrance racing along the building toward the MUB, and leave via the northwest stairway, closest to the Ad Building.
On the other side, going the other way, I'll use the side entrances on the MEEM, ChemSci, and EERC, before cutting through the new Dow Building into Dillman, then the M&M. DHH is then fairly close, or just tough it out to the Walker and Rozsa.
As for Thanksgiving storms, our local weatherman, Karl Bohnak,  wrote in-depth pieces on the 1985 post-Thanksgiving  storm (pictured above with the carsicle) and on the 1966 post-Thanksgiving storm, both Word docs.
And, as for closing Tech, many of you have contributed to a great piece of Tech history. I'd love to hear more of your winter storm stories.
Interviewing an alum on the phone recently, I started to complain about the winters up here.
"How long have you lived there?"
I got the point.
We'll grumble, scoop, snowplow, shovel, and survive like we always have, still lucky to be here, and we'll also celebrate our great family traditions. We had a new addition to our Thanksgiving table this year. Two months old, she tells me she'll like the stuffing and dark meat the best, like her grandpa.
Dennis '92, '09
Snowfall Totals
Season to Date 12.25″
On the ground 8″
Last year
Season to date: 20.5″
On the ground: 1″
Yes, the leaves are still there (until May).