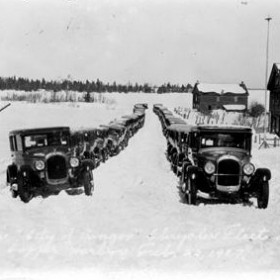 I am on medical leave for a while. I will miss you all, but a group of stellar Michigan Tech personalities have stepped up to write guest columns while I am away. —Dennis
It may only be the dawn of December, but the snow piles are growing ever larger here on campus. November brought more than 40 inches—that's a lot of white before Thanksgiving.
November may have come in like a lion, but thankfully it went out like a lamb. Students driving back to campus last weekend were treated to warmer-than-average downstate temps and mostly-clear roads, even through the Yoop.
Of course, it got us thinking about those less-tame commutes from Thanksgivings past. Closed bridge. Whiteouts. Stalled vehicles that get abandoned and become "carcicles." Surviving four or five years of Thanksgiving travels seems to be a badge of honor for Tech alums.
Tom Johnson '86 wrote to us about the Thanksgiving drive of '85, when the highway alongside Keweenaw Bay was "littered with logs that had washed across the road." He says that the eight-hour trip from downstate turned into twenty-one hours thanks to Mighty Mac and US-41 closings; he and his travelers spent the night at the L'Anse American Legion hall until the roads could be reopened.
"Without a second's hesitation, it's my most vivid memory of Thanksgiving while attending Tech," Tom says.
John Baker '71, who survived the Thanksgiving commute of '66, considers himself one of the lucky ones because of a smart route and a buddy with an old Corvette equipped with posi-traction.
"The snow storm struck just as we were crossing the Bridge," John says. "We went up the 117, away from US-2, while most people continued down to 77. We managed to get through without any real problems. My brother left a half-hour later than me and took the 77 route. He was forced to spend a couple of nights in some restaurant/bar between Blaney Park and Germfask, as the road was completely blocked."
Do you have a Thanksgiving commute survival story? Send us a message and tale us your tale.