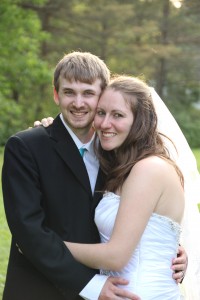 Alanie (Harmon) Sager '16 (Biomedical Engineering, Environmental Engineering) and Kaleb Sager were married in Alpena, Michigan, on August 19, 2017.
-Congrats on your wedding! Thank you for sharing. -SW
–
Not in many years but I am a Huskies fan.
When I was much younger we drove to Detroit, Michigan to cheer and support the Huskies in hockey. Now we have four children and I graduated from MTU many years ago and I have not gone to GLI  in many years!
Cheryl Mason '83 Civil Engineering
-Thank you for sharing. We hope to see you at GLI one of these years! -SW