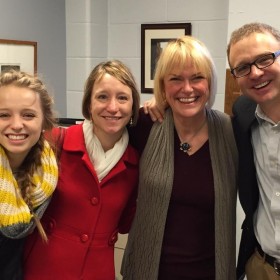 I am on medical leave for a while. I will miss you all, but a group of stellar Michigan Tech personalities have stepped up to write guest columns while I am away.  Today, Associate Vice President for Enrollment, Marketing and Communications John Lehman tells us about legacy students. —Dennis
My wife, Jodi '09, and I have started taking our 16-year-old daughter on college tours.  Working with college recruitment and enrollment programming for more than 20 years, I find it fascinating to be seeing this process from the other side of the table.  I know from years of experience working with families searching for colleges that the best school for our daughter will be one that she chooses herself, with guidance and support from her parents.  Of course, as an alumna, my wife as well as I would be ecstatic to see our daughter attend Tech.
In a recent survey of Michigan Tech students, more than 50 percent said that the most influential source of information that helped them choose Tech was a friend or family member.  You who are reading this are among those influential folks.  More than one in ten students at Michigan Tech is a" legacy student"–a student whose parents or grandparents attended Tech.  If we could account for aunts, uncles, neighbors and influential teacher/mentors, no doubt that percentage would be much higher.
Legacy students enjoy a bonus scholarship, but they also play a role in our student body.  They are the link between the institution's rich history of success and its bright future.  That link is especially evident when we see parent and grandparent alums helping their first-year students move into Wadsworth, DHH, and McNair (co-ed) each fall.  In their eyes, we can see these grads remembering moving into those very halls themselves.  It is easy to feel the pride all parents exhibit as they move their students into the halls, but it is on a whole different level for those who are returning to their alma mater to watch their child begin college. All parents are nervous on that day, but those returning to Tech seem to have a bit more confidence about the whole affair.
Like all parents, my wife and I want the best college possible for our daughter after she graduates from high school.  We'd like her to have a transformative education where she can work closely with talented and uncompromising professors in a community that cares and looks out for one another.  There are plenty of institutions that would fit that bill for our daughter. Tech is at the top of the list for her mother and me, but honestly, it's her choice.  Our job as parents is just to weed the mailbox of brochures from other institutions and hope for the best.
Did you send a legacy student to Tech, or were you one yourself? Tell us your story.