It was nice to see a familiar picture on the Tech Alum current edition as I'm the proud owner of the vanity plate that was featured.  It's great to see MTU utilize the photo which I submitted to the Alumni Board (which I used to be part of) to be used for Marketing of the plates.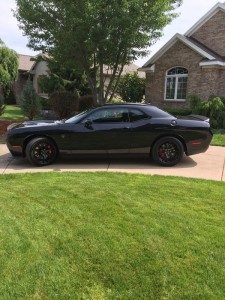 I've included an addition photo of the entire vehicle.  It's a 2015 Dodge Challenger Hellcat.  I ordered it in October 2014 and finally received it in July of 2015 as it's a high demand car.
This car has a lot of MTU minds that worked on it…. One alumni is the VP of the SRT Line which the Hellcat is part of.  Additionally, the head engineer of this car was also a MTU grad.
Keep up the great work on the newsletter!
Kind Regards,
Dan Batten '88 '90
Thanks, Dan. Great car, and I can see why it's in high demand! I also love these connections with Tech so many of the really neat machines out there in the world have. Though for some reason they never use the license plate promo shot they took of my car. They probably don't want anyone to get injured laughing (as a hint, two of them would fit in one parking space). –Kevin