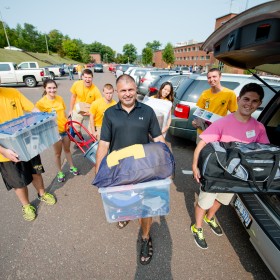 Family campus tours. First-year class photo at Sherman Field. Meeting your roommate at Wads or DHH.
About 1,300 first-year students moved into residence halls this past weekend. And, more than 6,000 students are returning to Michigan Tech for the start of the Fall 2017 school year.
As Orientation Week takes place this week, students will learn about Tech Traditions including broomball, cardboard boats and the Yooper Sprint. Some of them will visit McLain State Park for the first time or try a pasty with ketchup, gravy or both. They will buy their books, find their classrooms and start a new chapter of their lives at Michigan Tech.
As alumni and friends, what advice do you wish someone would have shared with you during your first week at Tech? What words of wisdom would you tell to this year's class?
Share your advice and words of wisdom. And, we'll pass them along to the students.
Here's to a great fall semester.
Sarah