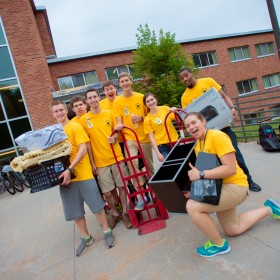 I am on medical leave for a while. I will miss you all, but a group of stellar Michigan Tech personalities have stepped up to write guest columns while I am away.  Today, Bonnie Gorman, dean of students, tells you about an unusual group of student leaders who go to great lengths to make incoming students feel welcome at Michigan Tech. —Dennis
It has been a wonderful week on campus for those of us who work with student leaders. Our Resident Assistants (RAs) and Orientation Team Leaders (OTLs) returned to prepare for 1,367 new undergraduate and transfer students. Actually, they've been preparing all summer.
This year, each of our 79 OTLs made welcome videos and posted them on YouTube. They then sent postcards to the students on their teams telling them where to find their video. You can check out my personal favorite.
The RAs also spent some time this summer working through an online course that included an introduction to crisis response, as well as an overview of more routine responsibilities such as how to fill out facility management forms. That freed up some on-campus training time to focus on developing communication skills and gaining insights into cultural differences, two components of a rich curriculum that strengthens their overall leadership skills.
I had the good fortune to spend time with both of these groups during the week. We met every day for a few minutes, which was a good time to learn more about them and share professional development tips for Orientation week and beyond. We also practiced a skit for Parent Orientation that helped to communicate how parents can best support their students. The students were great!
Here's what I else learned about these impressive student leaders:
They are as energetic as can be and looking forward to making a difference in the lives of others.
They are committed to the important role they play in making the incoming class feel welcome.
They are dependable and generous with kind hearts.
They like to get their work done and have fun.
Finally, they are proud to be part of the Michigan Tech legacy.
In the short time I spent with them, I saw them become more confident and eager to welcome new students and their families to our community, which says a lot about our staff as well. And, we had a great opening weekend and received numerous compliments—no real surprise with these students leading the way.
Bonnie B. Gorman, Associate Vice President and Dean of Students