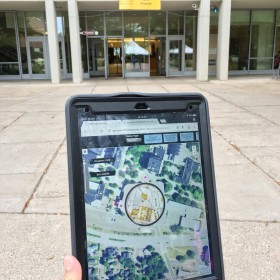 At this year's Michigan Tech Reunion 2017, alumni and friends walked through campus using the newly launched Keweenaw Time Traveler to explore past campus maps and memories.
One of the biggest memories came from alumni remembering College Avenue running through what is now the center of campus.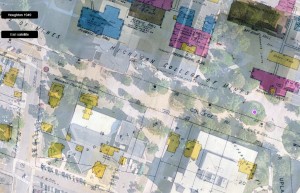 The Keweenaw Time Traveler is a digital map-based project that allows users to explore how the region and its population has changed through time. Supported in part by a three-year 9,882 grant from the National Endowment for the Humanities, the project—officially titled "Copper Country Historical Spatial Data Infrastructure"—goes by the user-friendly moniker of "Keweenaw Time Traveler."
Michigan Tech researchers have been digitally recreating the many environmental histories or "stages" of the Copper Country using Geographic Information Science (GIS) technology. Each stage is comprised of many "scenes" or time periods, much the way a filmmaker creates a scene to contextualize the story he or she is portraying on the screen.
From more than 1,000 historical maps and archival documents scanned from our region's archives, most of Houghton, Keweenaw and Ontonagon counties have been digitally modeled from 1850-1950.
Don Lafreniere, assistant professor of geography in Michigan Tech's Social Sciences Department says users can search historical records by name, address, place and building type by year. "They can pick a location and add their knowledge, memories and stories to share with other Copper Country enthusiasts as well as researchers," he says.
Sarah Scarlett, assistant professor of history, says they encourage alumni to connect with the Keweenaw Time Traveler. "It's a new place where they can connect with one another and with Michigan Tech and the area," she says. "Alumni can share their stories and pictures about places on campus. We hope to make it fun to record that history."
Share your memories with the Keweenaw Time Traveler Explore app. What do you remember from your time at Michigan Tech, where did you live and work?
Visit keweenawhistory.com and click on "Start the Time Traveler."
Look forward to reading your memories at Keweenaw Time Traveler.
And, thank you to all those who attended Reunion 2017. Save the Date for Reunion 2018: August 2 to 4.
Please visit and like the Michigan Tech Alumni and Friends Facebook page to view photos and more.
Sarah