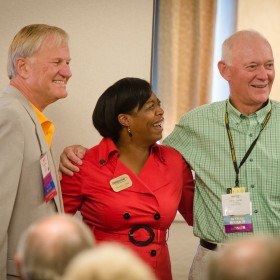 I am on medical leave for a while. I will miss you all, but a group of stellar Michigan Tech personalities have stepped up to write guest columns while I am away. We're kicking off with President Glenn Mroz, musing on Alumni Reunion 2014. —Dennis
The energy level on Keweenaw went up exponentially last week, as over 500 alumni and friends converged to jump-start friendships, swap life stories and kick the tires on what Michigan Tech is and is doing.
Departments opened their doors to alums who could experience the project based teaching methods of today.  And alums were introduced to campus-wide efforts aimed at the simple notion that if students do their job, and we do ours—both to the best of our ability—those students will be successful.
Programs like the Waino Wahtera Center for Student Success, that brings together the "outside the classroom" services students need like financial aid, counseling and Dean of Students.  Or the William G. Jackson Center for Teaching and Learning, which has provided technology in the classroom, expertise to help faculty design courses and modern testing facilities for classes, as well as supporting students with learning disabilities.
They were here for the dedication of the Frank Pavlis Honors College—not just for the brightest, but also the motivated who want to make a difference regardless of GPA.  And then there is the transformation of the Van Pelt and Opie Libraries into the modern Learning and Information Commons that it needs to be to support the team approach to teaching that has become the hallmark of a Michigan Tech education.
And did I mention that our alums and friends had fun?  Stories poured out!  Some so hard to believe that you really couldn't make them up!  By comparison, it's a bit quiet today.  But in 10 days, the alumni of 2018 will arrive, and the energy level will ratchet back up.
And we'll be ready.  In a sense, these new students have hit the ctrl/alt/delete buttons on their lives to come to Michigan Tech. They will enthusiastically explore all that alumni have built for them, and they'll start writing their own life stories.   

They will leave their mark on Michigan Tech, as you and so many generations have, since 1885.
Glenn D. Mroz, President