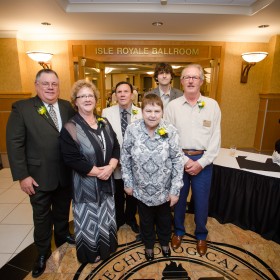 Alumni reunion always seems to be over in a flash. It was extra flashy for me this year, as I got back into town late right before the event—and my apologies to those of you I had hoped to meet, attending fewer events that I had originally planned. I seem to have picked up some kennel cough or whatever that feeling is you get after a long time in an airplane and have to breathe that air for hours. And even though I wasn't there long, there is a bit of readjusting to changing three time zones. When I was out there sleeping until 7am felt late, and then back here I noted that I really should have been at work a couple of hours ago…
But it was fantastic to see town hopping so well, full parking lots and sidewalks, three days of packed schedules. And we have such a fantastic alumni awards ceremony, I wanted to share the write-up my colleague Mark Wilcox wrote up on it:
Joseph M. Nowosad, '87, was the recipient of the evening's most prestigious honor, the Distinguished Alumni Award. Nowosad's current position is with ArcelorMittal, serving as manager of customer technical service for General Motors-NAFTA.
The Honorary Alumni Award honors the strongest non-alumni supporters of Michigan Tech. It recognizes individuals who have provided the service and support that are characteristic of a dedicated alumnus/alumna. There were two recipients this year. Lynda and John Fenn were honored for their support of surveying engineering at Michigan Tech. John Fenn established Fenn and Associates Surveying in 1978 and served as chair of the American Council of Surveying and Mapping. Also receiving an Honorary Alumni Award was B. Patrick Joyce, a professor in the School of Business and Economics at Michigan Tech for 38 years. While outstanding in the classroom, it is Joyce's work for athletics at Tech for which he will be long remembered.
Maj. Justin M. Fitch (Ret.), '05, is this years' recipient of the Humanitarian Award. Major Fitch joined the Army ROTC program the summer after his first year at Michigan Tech. After a deployment in Iraq, he was assigned to the Natick Soldier Research, Development and Engineering Center in Massachusetts, taking command of the Human Research and Development Detachment. In May of 2012 he was diagnosed with metasatic colon cancer and has undergone multiple surgeries and more than 50 rounds of chemotherapy and other treatments. Despite his health issues, he has worked tirelessly with Carry the Fallen, a program to prevent suicide among veterans. (Justin is also, of course, the cover story of the most recent Michigan Tech Magazine and about as amazing of a person as I can think of.)
Susan L. Korpela, '78, is this year's recipient of the Outstanding Service Award. Throughout her career at 3M Company, Korpela has lived out her passion for K-12 STEM education. She has been a counselor, role model and speaker on many occasions and helped secure 3M Foundation/3M Gives funding, ,000 annually from 2011-2014 for Summer Youth Program Women in Engineering scholarships. She connected 3M and Tech on multiple occasions for a wide variety of programs.
The Outstanding Young Alumni Award was presented to Britta A. Jost, '04. Jost, who was keynote speaker at the Student Leadership Awards Ceremony in June, joined Caterpillar Inc . in 2005 and is currently a senior engineer in large structures design engineering.
If you weren't able to make it to Houghton this year, that's okay—we'd love to see you in August 2016, though! And it's never too early to reserve a hotel room…
Elsewhere:
While last issue seemed a bit light on content, there is a ton of news and sports info this time around. Hopefully this message doesn't completely fill your inbox!
Check out the story of how basketball alumnus Ben Stelzer is off to Spain to play professionally. Or the news story about how carbon nanotube speakers generate sound through heat.
Or there's the one that names Michigan Tech one of the top small-town colleges in America. You probably already knew that, though.
The Places feature hasn't quite come off as well as I'd hoped, primarily due to this summer being insanely busy. We always have the belief 'round these parts that the summer is quieter than the school year. That's definitely not true for the Summer Youth Programs gang, obviously, and I've discovered that publications don't much care what month it is either. I will get on that once things slow down and I get a few newsletters off of my to-do list!
And finally, we'll have a special report in the next issue of TechAlum. Well, it'll be a report for sure: I don't know how special it will be in a writing sense. But in content, it will be brilliant: we've been speaking with some employers and alumni about the workforce here and the opportunities to stay here in the Keweenaw after school. It's a growing trend, with offices popping up and students thinking about moving down the street rather than downstate. Stay tuned for that next time.
Thanks for reading.