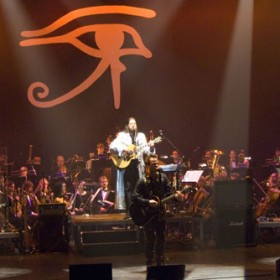 Another bonus of living here is all the talent that comes through town: famous lecturers, comedians, acting troupes, and especially musicians  have graced the stages at Tech. Through extensive research in the Keweenawan and elsewhere, I've discovered a golden age of rock, folk, and jazz concerts at Tech.
We  still get good acts, and an annual spring event called Keweenawsomefest brings in folks from across the Midwest.
But, the years from 1968 to 1977 brought some legendary musicians to Tech: the Smothers Brothers, John Denver, Jim and Ingrid Croce, Bob Seger System, Linda Ronstadt (a little tipsy on stage?), Neil Diamond, Chubby Checker, Ides of March, Guess Who, Styx, Grass Roots, Ian and Sylvia, Nitty Gritty Dirt Band (just saw them a couple years ago), Maynard Ferguson (played here a few times), Cactus and the Amboy Dukes (w/Ted Nugent, Alpha Kappa Psi put it on), Muddy Waters (I heard he played later in Wads basement.), Deodato (saw this), Mary Travers, and Woody Herman.
Some lesser-known artists also performed. Some were brought back frequently, like Josh White, and some only once (from what I could tell): the Buffalo Chipkickers, the Dukes of Dixieland, the People Tree, Zap, Natchez Trace, the New Colony Six, Mason Proffit, Scott Richard Case, Jim Schwall Band, and Oliver ("Jean").
Later, Arlo Guthrie played here a couple of times, and he's coming back this summer. His dad, Woody, wrote a song about the Italian Hall disaster in Calumet, "The 1913 Massacre."
A huge treat was when the Alan Parsons Live Project played with the Keweenaw Symphony Orchestra, with Milt Olsson directing. Milt's son, PJ, is lead singer for Alan Parsons.
Also more recently, Flogging Molly, Electric Six, and They Might Be Giants (who were really good). Brad Paisley played during the first year of the Rozsa Center.
But, we have gaps to fill: much of the 1980s and 1990s seem void of music. That can't be true, as there had to be concerts on and off campus. Can you recall any of note? I'd love to hear about what you heard (and saw).
Dennis '92 '09
Snowfall Totals
Did I mention I bought new golf clubs? Last time I did that? Our pipes froze.
Keweenaw County numbers.
Keweenaw Research Center  totals.