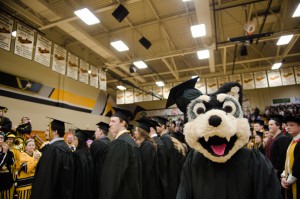 It's a big week on campus. Finals. Commencement. And the unofficial start of summer. Well, it's almost summer term, at least.
Students are making that last push. For some the end of their first year. For many, the last few moments and the start of what's next.
I didn't graduate from Tech, but I remember the bookends of college. Walking away from my parents one fall and back up to them, diploma in hand, four years later, so I have a sense of the pride, relief, and great sense of accomplishment our graduates will be feeling in a few short days.
The students here do amazing things. Most have forgotten more math than I'll ever know. They balance rigorous academics, service, athletics, jobs, and a little bit of fun along the way. They're #crazysmart, crazy-adventurous, and are going to do seriously incredible things.
Most of them won't read this. But if you know a Husky who will walk across that stage Saturday, think of them with pride and welcome them to the group of thousands of Michigan Tech alumni who have come before them. Just like you, they earned it.
————–
In the last two issues, we've highlighted alumni chapters in Michigan and Wisconsin. This week we venture farther afield and bring you an update from the Empire State.
The Upstate New York Chapter and the New York City Chapter had a joint event at Cold Spring, New York last fall to tour the West Point Foundry. The foundry operated from 1817 to 1911 and was an instrumental component in U.S. security, standardizing artillery and ammunition for our armed forces after the War of 1812.
Michigan Tech's Industrial Archeology program played a key role in excavating and interpreting the site.
Now a wooded preserve recalls more active days gone by. The joint chapter meeting involved lunch at the Cold Spring Depot and a guided tour of the preserve by the Scenic Hudson organization. Details of the lunch and tour were developed by Denise Blankinship '84, the New York City Chapter leader.