In the spring of 1968 there was a club called "The Cave" in the basement of the Ambassador Bar. One entertainer who played there was a single guy who knew a lot of Ian and Sylvia and Joni Mitchell songs. This was long before I started singing and playing professionally myself. Looking back, two things strike me: He knew a lot of obscure Ian and Sylvia Songs, and (most striking) he knew and sang a couple of Joni Mitchell songs months before they got popular air play. Joni was part of the "folkie" hub in Detroit in the sixties that included people like Gordon Lightfoot and Ian and Sylvia, but I've always wondered who he was.
Can any of your readers help?
Ted Egan
Ted: We're putting the call out. Sounds like a great mystery.
***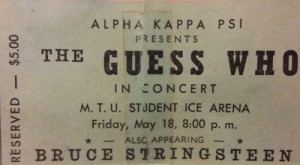 Hi Dennis,
I enjoyed your piece on music at Tech over the years in your last newsletter. I remember many of those shows. In fact, my very first concert ever was the Guess Who at the then Student Ice Arena. 1970 or 71 as I recall. After 40 + years I still have the ticket. I thought I'd share it with you. Note who the then unknown a opening act was and the ticket price.
I also remember seeing Harry Chapin at Sherman Gym at some point in the 70′s. That was a great show as well.
Loyal O'Leary
Loyal: Now we need to find out if that was indeed the Boss!
***
Dennis,
I'm not sure on the exact year, but sometime between 1978 and 1981, I saw Head East and also Harry Chapin (with his brother Tom) at Tech. Both were quite good. It was especially poignant, since Harry died shortly after in the summer of 1981.
Alan Didion
BSChE 1982
***
We also had a couple of celeb concerts back in the late '50′s. Louis Armstrong came the winter of '58 & '60. (He told the same jokes the second time around..) The Kingston Trio came in '59.
Gail Dankert Richter '61
Karl E Richter '59
***
Dear Dennis,
The list of entertainers who visited Tech was really impressive, but you could add to them the Association, New Christy Minstrels, Highwaymen, Chad Mitchell Trio, and Julie London–all of which appeared in the '63-'67 period. Despite its remote location, Tech has brought many significant cultural activities to the students over the years.
Neil Foreman
Geology '67
***
Dennis,
I saw Harry Chapin – 80 or 81 ??
Dan Crepeau -84
***
Dennis,
I remember seeing Molly Hatchet (Flirtin with Disaster) at the Ice Arena in the Spring of maybe 1983, 1984 or 1985. They played well and sounded pretty good. However, the concert was not very well attended; maybe 1/3 of the main floor was filled with fans. You could leisurely walk right up to the stage. It kind of had that feel like "Puppet Show and Spinal Tap."
Anyway, the band seemed to be kind of in an angry mood about the whole thing. I suspect that traveling up to the hinterlands and playing in front of a sparse crowd of engineer-types (i.e., mostly relatively conservative males) wasn't making their day. I distinctly remember the lead singer yelling out to the crowd "does anyone here want to party?". After the weak response from the crowd, the look of disgust on his face was something that still brings a smile to my face.
Steve Koester, '85
***
1979 – Harry Chapin – MacInnes Ice Arena
1981? – Pop Wagner – MUB
1982? – Greg Brown – MUB
Mike Abbott
***
Dennis:
Always great to hear from you and Da Tech!
Re you inquiry about bands in the 1980s, the Minneapolis group The Suburbs (http://thesuburbsband.com/) played the MacInnes Student Ice Arena in the spring of 1984. I remember it well, because Mike Muller somehow got Lambda Chi to work security, and I spent the concert in front of the stage, throwing slam dancers and crowd surfers back into the mosh pit. I think many of those words came into vogue after 1984, but what the hey, they work!
I also recall hearing that the band Head East, of "Never Been Any Reason" fame, played Tech in the late 1970s or early 1980s. That might just be urban legend, however.
Jamie Holden
Jamie: We've verified Head East.
***
It must have been about 1974.
Mason Profit never made it to Tech – they went to Houghton Lake, instead ! But , I still bought their record from the ticket sales table in the Union.
Henry Missel
CE 1977
***
Dennis,
You might add the following to your list. In 1960 Louis Armstrong played in Sherman Gym. In 1961 the "Four Freshman" played, also in Sherman Gym. I remember than rather well since I did sound for both of them. I worked for the concert and lecture series and that was what got me the best seat in the house for those concerts. I also remember getting a stage build, etc. for an opera production. Don't remember what opera or who did it, but it was interesting to get everyone working together to get things done.
Dave Funston '61
Dave: I'm giving Louis the Most Famous Act Award, unless someone can top that!
***
I remember that Meat Loaf performed at the SDC sometime during my years (1984-1988).
Mark Yergin
***
Dennis,
Growing up, I remember going to Coffee Houses in the MUB (mid 1980s to mid-late 1990s) to see folk-singer/songwriter Charlie Maguire (www.charliemaguire.com), "The Singing Ranger" of the National Park Service. He's a very talented musician and it would be fun to get him back on campus. You may be able to find more information on him than I can recall.
Keep up the good work on the newsletter! I always enjoy reading it.
Kelly (Abbott) Kesti
2004
Kelly: I think Charlie Maguire was here more than once. Alums?
***
Dennis,
I remember my freshman year (80-81), we saw Head East, at the SDC, and Shooter opened for them. It was between Thanksgiving and Christmas, because we spent that day hunting Christmas trees for our dorm rooms in West Co-ed. Also, in 83-84, my fraternity (ΜΒΨ) brought Shelly West to town to play in the basketball gym.
Dave Clark
***
I saw Maynard Ferguson , jazz trumpet player, either in 1988 or maybe 1989
John Andree
BSEE '89, MSEE '95
***
Dennis – I don't think you are too far off when you say the 80′s and 90′s were void of big music attractions, but I do believe Molly Hatchet made their way here in the very early 80′s, maybe 1980. Then again, maybe it was just their lead singer and his band – Danny Joe Brown Band?? (or something like that).
Tom Holzberger, '85
***
When I was up there (1977-1982), I remember a Russian band that played there (maybe at the SDC). They were spectacular. Each one had a specialty on their bizarre instruments. That stands out in my mind, along with the time that Mel Blanc visited Tech.
Mike Anderson
***
I loved the article about Tech concerts – I saw many of these in the early '70′s. It's true about Muddy Waters playing in the basement of Wads. In those days, apparently, musicians didn't require luxurious accomodations and Tech had put Muddy and his band up in a study room in Wadworth Hall's basement. Muddy and the band got there after the concert around 1 AM, and since they had like a 6AM flight, they figured no point in going to bed, so they just sat down and jammed all night. I distinctly remember reading this in the Lode a few days later. A Lode reporter had been there with them, and wrote about it. Imagine sitting listening to Muddy and his band jam all night, and the only audience is you – what a memory!! If you go back and look at the Lode from then -around '73 or '74, you'll find the article, and if you can track down that guy today, he would really have a story to tell!
Tim Foss '75, Forestry
Tim: Well, now I'm really sad I didn't go.
***
Hi Dennis,
I like the write up about the the bands who've been to Tech. Great idea. Two others I remember are The Outfield (early 2000′s – didn't go) and Ladysmith Black Mambazo (who were excellent).
John Lehman
***
Denny-
I recall seeing The Suburbs at the SDC in either 1983 or 1984. They're still around and I see them in the Twin Cities once in awhile. I also recall Penn and Teller performing in Fisher Hall around the same time. Amazing tricks. They hypnotized some students and brought them dangerously close to embarrassing themselves on stage. They had a guy convinced that his zipper was down and even when the crowd thought he was fully awake, he covered himself when he got up to return to his seat in the crowd.
Carl L. Craven
***
Hi Dennis
I enjoy your newsletter and read it from top to bottom every month. Reading about the Golden Age of Concerts, I recollect from 1963-1967 (I guess this was before the Golden Age) Julie London appeared (and she was a little tipsy). I also remember the Association being there. If I had to guess, I'd say JL in1966 and the Association in 1967.
I'm hoping to make a trip back up to the copper country this Fall. I hope I recognize something!
Scottie Adams aka Scottie Trettel aka Pamela Scott Trettel, Class of '67.
***
Dennis,
I was at Tech 79-83 and in the early part of my tech experience Harry Chapin and his brother Steve came up and played at Sherman Gym, If I remember correctly a little basketball was played with the Chapin brothers after the chairs were cleared.
Ed Sullivan, P.E. 83
***
I was at tech sept 76 to Nov 1980. I recall seeing Mel blanc at Sherman gym across from wads.  Also saw the amazing kreskin also at Sherman gym.
John Pozega
John: Well, was he amazing?
***
It was a long time ago, but I recall a couple things from my '64 to '68 stay:
The Mitchell Trio (formerly the Chad Mitchell Trio) replaced their namesake Chad Mitchell in '65 with a young unknown by the name of John Denver. The MTU gig was one of his first with the trio, IIRC.
Singer Julie London came to Sherman Gym during that time. Rather an uninspired performance.
When was the Guess Who at Tech? A rock group played Sherman Gym so loud that it hurt! A bunch of us went outside to listen.
Seems like the We Five played Tech during that time.
That's all I've got!
David Dreisbach '68