Good Morning,
Dean Meese spoke at an orientation session at the gym the 1st week of September. He told us to say hello to the person on either side of us as 1/3 of the gathered assembly would be gone by Christmas. I made sure I wasn't part of that crew. Welcome to Michigan Tech!
Bill Gobert
***
Dennis,
You may have seen this photo before as the original slide is in the MTU Archives.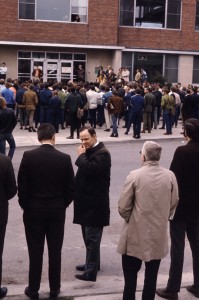 The attached photo shows Dean Meese watching the Kent State rally taking place on the steps of the Student Union in May 1970. The Dean played a key, if not all that outwardly visible a role during the events of that tragic week. While officially the university remained open, he did agree that it was up to the department heads and the individual professors/instructors as to whether they would continue to hold classes or not. But in those situations where a class was not canceled, he asked that attendance not be taken and that no tests nor quizzes be given all of that week. I think this went a long way toward allowing the protests to take place without it getting out of hand or people feeling that somehow the administration was acting against them. And it worked. While the rallies were held and many people spoke out loud and passionately about the events of that week and how as students, and faculty, we all had a stake in what was happening in our country at the time, it never got out of hand nor did anyone suffer any consequences if their consciousness kept them from attending classes that week. It was a sad time for our nation, but we maintained our dignity while still participating in what became a national demonstration of concern and outrage over what had happened, and I think Dean Meese, and the other faculty and administrative staff, as well as of course us students, all played a role in keeping it civil and the actions taken appropriate.
John R. Baker, P.E., BSME, 1971
Irvine, CA
***
Dennis,
Dean Kerekes pre-dated Dean Meese, but he was a jolly old fellow, a nice guy, as every dean must be. In my sophomore year I registered for 28 credits (41 hours in class rooms and labs each week) and the dean called me in shortly after the winter term started. He said I couldn't register for that many credits and I asked him "Why not" if I get all A's and B's? He thought pensively for a moment and told me that if I didn't get all A's and B's I could never do it again. Seeing as there's not much to do in the winter at Tech, unless you're a hockey player, I was able to earn 7 A's and a B, even with Dr. Stipe's calc class. But, I didn't try it again. Dean Meese probably would have never let me try 28 credits!
Merle Potter '58, '61
***
Dennis:
I was President of Kappa Delta Psi my junior and senior years at MTU. As the elected leader of this socially active group of student leaders I had what seemed to be a regular meeting with Dean Meese pretty much every Monday morning. These meetings reviewed the past weekend's activities of my fraternity brothers' with the intention of developing some sort of corrective action plan to mitigate damage and prevent similar problems in the future. The biggest challenge was the fact that my KD brothers were very creative in their mischievous ways so Dean Meese and I became rather well acquainted!
After one particularly uproarious weekend I was well prepared to "face the music" in the Dean's office. As expected, his secretary called at about 8AM that Monday summoning me to the Dean's office at 10AM. When I entered his office I did not even take a seat before I started my explanation of how we were sorry about what happened Friday night and that we had already taken up a collection to repair that damage, and the situation that arose on Saturday was truly unfortunate, but was not 100% our fault as we had to defend our honor which was being called into question at a local drinking establishment by members of a rival fraternity. I also had to admit that I had no explanation or justification for the telephone booth that ended up in the canal!
Dean Meese listened in silence as was his custom. He then motioned me to sit down and as I did he stated, "Well, Sarge, thanks for all that information, but that was not why I called you in here today!"
I learned a valuable lesson that day and fortunately, before he passed away, Dean Meese and I were able to reminisce and laugh many times about our Monday morning meetings.
John M. Helge
***
I remember Dean Meese as being very pro veteran. He was a Captain in the Navy Reserve and all departments had evaluators that knew the military training schools and granted appropriate university credit for those schools. While I was not a EE major I did receive transfer credit for two EE courses for the military schools I completed.
I met with Dean Meese several times while I was a member of the MTU VETS Club. It was always a pleasure and interesting. I think everyone held him in high regard.
It is always good to read about administrators and professors from the years I attended Tech. Brings back a lot of memories.
Thanks,
PAUL BOWEN
BS Geol. Eng. 1970
BS Eng. Ad. 1971
***