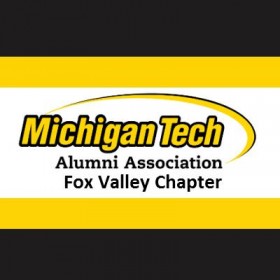 Greetings Fellow Alumni!
I wanted to give you an update on our Fox Valley Chapter of the Michigan Tech Alumni Association.
We are a relatively new chapter that has been meeting for just over a year. We hold bi-monthly Husky Happy Hours at a local establishment with ties to Michigan Tech.
The Appleton Beer Factory, downtown Appleton, has been graciously accommodating us and we genuinely enjoy working with them.
Their ties include four alumni owners: Ben Fogle, Mechanical Engineer (2008), Mairi Fogle, Marketing & Management (2009), Carl Pierce, Mechanical Engineer (2008) and Evan Zaborski, Electrical Engineer (2010) as well as owners Jeff & Leah Fogle who also have a son graduating from Tech this month.
The brewpub has an awesome in-house brewing facility and wonderful food options. We've had some awesome turn outs since our first gathering at the end of 2014 which had over 70 people!
We typically meet the 3rd Thursday every other month, in rotation with the Green Bay Chapter. Lately, we usually have about 35 people each time. Gatherings are very laid back networking/socializing events which also include Michigan Tech trivia or prize raffles and the opportunity to meet fellow alumni!
I look forward to another great year of events and would love to hear any other ideas people may have for other events.
Like our Facebook page, Fox Valley Chapter-Michigan Tech Alumni Association, for more information and updates!
If you live in or are visiting the Fox Valley Area I hope you can join us for a future event.
Our next one is this week—Thursday April 14 at 6pm at the Appleton Beer Factory. (Please note this is the 2nd Thursday of the month rather than the 3rd we usually do.)
Leah Enking '10