2008 President's Award for Leadership—Jonathon Aho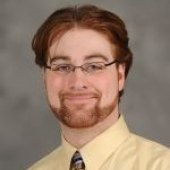 Jonathon Aho
BS, Mathematics
BS, Biological Sciences
The President's Award for Leadership is given to a student who is chosen from an outstanding group of nominees that have provided leadership for their peers in their activities while a student at Michigan Tech.
Recipient's Bio
Jonathan is a fourth year, Mathematics and Biological Sciences double major with an International Minor in German. During his time at Tech, he has been involved in a wide variety of activities. One of his favorite activities has been his involvement with the student-run radio station, WMTU, where he is on the staff and also co-hosts a weekly radio show. As a staff member, he helps determine the future direction of the radio station, as well as bring in musical acts from around the country.
For the past couple of years, Jonathan has been an anatomy lab teaching assistant, where he has the opportunity to guide students and make improvements in the lab. He has also helped others by serving as a volunteer Emergency Medical Technician Basic in Baraga Country. During the summer of 2007, he had the opportunity to be a volunteer EMT counselor at Camp 911, a safety camp for fifth and sixth graders, where children were taught CPR, basic AED use, and first aid.
Jonathan has also been involved with the Blue Key Honor Society, where he served as president during this academic year. Winter Carnival 2008 received 33% more funding than 2007, which improved the organization's infrastructure with online registration and made it easier for students to participate. He was also able to bring back the traveling trophy, which is one of the great traditions of Winter Carnival that has disappeared in the past few years due to the lack of funding. He also worked with the University to bring artists from Kentucky and Maryland to campus to freeze a car in a block of ice.
Through all of his experiences he has learned "while leadership and service require much sacrifice of time and substantial effort, the reward for the community is well worth the hard work."