|

Wednes

day, February 12, 2020

|Theme:

Transdisciplinary Research

|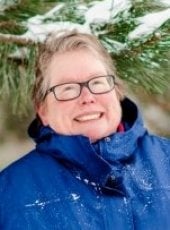 Lecture presented by Distinguished Professor Kathleen Halvorsen: How I Learned to Stop Worrying and Love Team Science: Lessons Learned from 25 Years of Transdisciplinary Research
View the slides from Dr. Halvorsen's presentation
Research Statement: The creation and management of effective large, complex research teams and proposals is challenging. One of the keys to turning a diverse group of individual talented researchers into an effective research group is an understanding of some basic team science principles. I focus on describing some of the lessons learned together from my time working in, leading, and studying large, complex scientific research teams. My goal is to increase understanding of successful teamwork skills that can increase research team success.
Six Questions with Distinguished Professor Kathleen Halvorsen
Q1. You focus your work on indigeneity, team science, and climate mitigation and adaptation. How did you come to choose these foci? Or, did they choose you?
As a policy scientist, I specialize in studying solutions to our most pressing environmental problems. I view climate change as our biggest global problem – I have therefore focused my work there. I am also passionate about diversity and inclusion in science – on my path toward building diverse teams of students, scholars, and scientists I have come to be able to work with individuals from Tribal Nations, most frequently Anishinaabe Ojibwa Nations. My collaborators have helped me understand that creating strong and diverse scientific teams requires deep commitment to humility, mutual learning, working together, and changing the context within which we work. Together we can craft better environmental solutions. My focus on team science – the science of creating and managing effective transdisciplinary research teams – complements this focus and helps me contribute to building better scientific teams.
Q2. How do your research and role as the Associate Vice President for Research Development (AVPRD) complement each other?
I have been fortunate to have learned the craft of creating and managing transdisciplinary research teams from research, experience, and working with more senior faculty mentors and collaborators. Over the past 25 years, I've worked within and led transdisciplinary, often international, teams comprised of scientists and scholars across many different disciplines and of staff from non-scientific sectors, such as industry, Tribal Nations, non-tribal governments, and non-governmental organizations. The lessons I learned led me to begin to research team science questions. As AVPRD I am currently using what I have learned to help Tech researchers craft strong research proposals, including proposals involving complex, interdisciplinary, and even transdisciplinary teams. I have therefore had the opportunity to try to "pay forward" the generosity of my mentors and collaborators.
Q3. What has changed the most in your field over the past decade (or two)?
Given my climate change focus, one answer is that climate change has become a bigger and more urgent problem. Another is that the environmental sustainability research field is increasingly sophisticated in its ability to use team science principles to create research teams that are more likely to contribute to science that helps solve environmental policy problems. I am hopeful that this will enable us to contribute to solutions that better help us mitigate and adapt to catastrophic climate change.
Q4. What is the biggest challenge in your fields of expertise?
One challenge is ensuring that our transdisciplinary teams successfully create transdisciplinary outputs and outcomes. Success in getting a transdisciplinary proposal funded doesn't always translate into broad success creating transdisciplinary scholarly and broader impacts. Another challenge is working effectively with diverse communities and team members. Ideally, a transdisciplinary research team is constantly challenging itself to ensure that its scientists, scholars, and members from other sectors are working together effectively to craft approaches, methods, and outcomes that are responsive to academic and non-academic sectors. We all have to move out of our comfort zones and stretch ourselves to do this – it isn't always easy, but it is always important.
Q5. How does Michigan Tech work for you as a home base?
I started at Tech in 1995 as an instructor in the last year of my PhD. This is therefore the place where I have made my career. I have had the great fortune to be able to work with great mentors, collaborators, and students and to have been here during a time of rapid growth in research capacity enabled by a series of strategic policies and investments by our administration. I always say we are the "goldilocks and the three bears" of environmental sustainability research – with a critical mass of environmental scientists and scholars in many disciplines and departments combined with our small size. This enables us to build relationships and pursue many different environmental research foci with cores of team members experienced in working together. We often trade off our roles in teams, allowing some of us to recede into more supporting roles and others to emerge as new leaders. This has also allowed junior researchers to gain experience and confidence moving into scientific leadership. It has made us very competitive for large, cross-directorate National Science Foundation environmental research grants. Today part of my work is supporting growth in other areas where we are particularly strong – there are many, including health, computing, and material sciences.
Q6. What's next in your research?
I lead the "MICARES" transdisciplinary research team that includes people from departments across Tech as well as Michigan State, the Keweenaw Bay Indian Community, the Sault Ste. Marie Tribe of Chippewa Indians, and several Michigan renewable energy groups. We were one of the first research teams to receive National Science Foundation Convergence program funding. The MICARES team is studying barriers and opportunities with regard to renewable energy adoption in Tribal Nations and rural communities across Michigan. We are using this as a case study of socio-technological system transitions (STST) to jumpstart a new subfield in this area that crosses arts, humanities, and social, natural, engineering, and computational sciences while including close collaboration with non-academic experts in various aspects of these transitions. Most recently we have begun to expand our STST studies to include new fields in which Tech is strong, like machine learning and autonomous intelligence. Michigan Tech is uniquely positioned to lead the development of the STST subfield.