Honoring a Proud Tradition: Black History Month at Michigan Tech
By Mary LeDoux | Published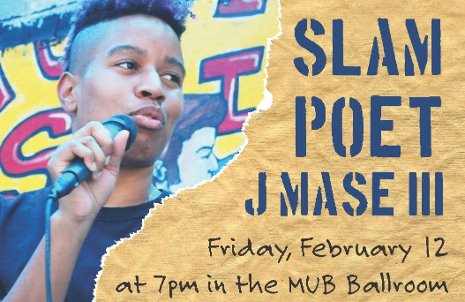 We have all heard of Martin Luther King Jr., Rosa Parks and Malcolm X, to name just a few famous African Americans. It is the contributions of such well-known and many lesser-known African Americans that we honor during Black History Month.
In 1926, Carter G. Woodson, known as the "Father of Black History Month," originally established Negro History Week to raise awareness of the contributions African Americans have made, and continue to make, to the development of our nation. As a son of slaves, Woodson knew first-hand the value of education. He earned his PhD from Harvard University in 1912, the second African American to have done so. A half century later, in 1976, the month of February was designated as Black History Month.
Michigan Technological University also honors the African American community during Black History Month. Throughout the month of February, the Center for Diversity and Inclusion (CDI) has collaborated with students of color in creating a social media photo campaign at www.facebook.com/CDIatTech Showcased in the exhibit are organizations, and students of color throughout Michigan Tech's history. Anyone wanting to get involved in this project should stop by the center.
Black History Month Activities
CDI program coordinator Zachary Rubinstein provided this list of different activities taking place on campus in honor of Black History Month:
February 11-12—Self-described black/trans/queer poet J Mase III from Seattle will be here February 11-12. On Thursday, Feb. 11, he will be leading a solidarity workshop from 2:30 to 5:30 p.m. in Wadsworth Hall Café Annex (G11w). On Friday, Feb. 12, he will conduct a poetry workshop from 2:30 to 4:30 p.m. in the Memorial Union Building Alumni Lounge. At 7 p.m. that night, he will give a spoken word/poetry performance in the Memorial Union Ballroom.
February 24—Spike Lee film Malcom X will be shown at 6 p.m. in Fisher Hall 135.
All activities and displays are free and open to the public.
Rubinstein said the purpose of the Black History Month programs is "to bring awareness of the contributions of African American organizations and students to Michigan Tech's history and the important role they will play in its future. They represent our past, present and future." He hopes that the surrounding community as well as the campus will participate in the events.
An African American Student's View
To fifth-year English major D'mitri Williams, Black History Month "means that my accomplishments, no matter how small, are worth being recognized. This recognition inspires me to be bigger than myself."
Is enough being done to honor black history? Any recognition of the accomplishments made by people of color is a good start, said Williams "Yet it is not enough. There is so much, and so many not being recognized."
Williams went on to say: "Becoming the best me I can be allows me to give the best back to the community. The more we allow people to exist with stereotypes, the more they are limited. By being a good role model, we can make this better."
He suggested that Michigan Tech might consider weekend extracurricular activities throughout the month that would provide an opportunity to learn about black culture and accomplishments.
Michigan Technological University is a public research university, home to more than 7,000 students from 54 countries. Founded in 1885, the University offers more than 120 undergraduate and graduate degree programs in science and technology, engineering, forestry, business and economics, health professions, humanities, mathematics, and social sciences. Our campus in Michigan's Upper Peninsula overlooks the Keweenaw Waterway and is just a few miles from Lake Superior.