Michigan Tech Alumni Association Presents 2015 Awards
By Mark Wilcox | Published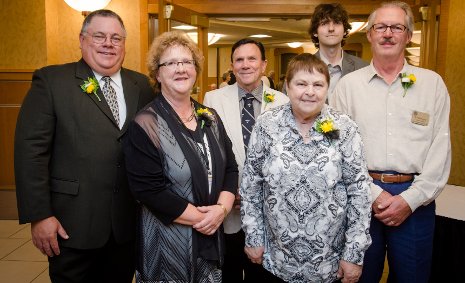 Seven individuals were recognized by the Michigan Technological University Alumni Association at its annual Alumni Dinner and Awards Ceremony Friday evening. The event was the centerpiece of the Alumni Reunion, which began Thursday and ended Saturday.
Joseph M. Nowosad, '87, was the recipient of the evening's most prestigious honor, the Distinguished Alumni Award. Nowosad's current position is with ArcelorMittal, serving as manager of customer technical service for General Motors-NAFTA. As Michigan Tech's primary contact with ArcelorMittal, Nowosad served on the advisory boards for the College of Engineering, the Department of Materials Science and Engineering and Career Services. With his help a number of enterprise and senior design projects have gotten off the ground.
The Honorary Alumni Award honors the strongest non-alumni supporters of Michigan Tech. It recognizes individuals who have provided the service and support that are characteristic of a dedicated alumnus/alumna. There were two recipients this year. Lynda and John Fenn were honored for their support of surveying engineering at Michigan Tech.
John Fenn established Fenn and Associates Surveying in 1978 and served as chair of the American Council of Surveying and Mapping. He has provided service to Michigan Tech as a member of the University's Surveying Engineering Industrial Advisory Board for the School of Technology. In the early 1990s John and his wife Lynda established a surveying scholarship at Michigan Tech.
Also receiving an Honorary Alumni Award was B. Patrick Joyce, a professor in the School of Business and Economics at Michigan Tech for 38 years. While outstanding in the classroom, it is Joyce's work for athletics at Tech for which he will be long remembered.
He served as chair of Tech's Athletic Council since 1995 and served as the University's NCAA faculty athletic representative from 1999 to 2010, when he stepped down from his roles with athletics.
He also worked extensively with the NCAA, WCHA and GLIAC. He has previously received Tech's Blue Key Clare M. Donovan Award and the Herb Brooks Award for service from the WCHA.
Maj. Justin M. Fitch (Ret.), '05, is this years' recipient of the Humanitarian Award. Major Fitch joined the Army ROTC program the summer after his first year at Michigan Tech. He was commissioned into the Army on the day of his college graduation.
After a deployment in Iraq, he was assigned to the Natick Soldier Research, Development and Engineering Center in Massachusetts, taking command of the Human Research and Development Detachment.
In May of 2012 he was diagnosed with metastatic colon cancer and has undergone multiple surgeries and more than 50 rounds of chemotherapy and other treatments. Despite his health issues, he has worked tirelessly with Carry the Fallen, a program to prevent suicide among veterans.
Despite his protests, he was medically retired from the military in January, but as he continues his cancer treatment, he dedicates what time he can to Carry the Fallen.
Susan L. Korpela, '78, is this year's recipient of the Outstanding Service Award. Throughout her career at 3M Company, Korpela has lived out her passion for K-12 STEM education. She has been a counselor, role model and speaker on many occasions and helped secure 3M Foundation/3M Gives funding, $25,000 annually from 2011-2014 for Summer Youth Program Women in Engineering scholarships. She connected 3M and Tech on multiple occasions for a wide variety of programs.
The Outstanding Young Alumni Award was presented to Britta A. Jost, '04. Jost, who was keynote speaker at the Student Leadership Awards Ceremony in June, joined Caterpillar Inc . in 2005 and is currently a senior engineer in large structures design engineering. She is Caterpillar's lead engineering recruiter at Tech and as such, her duties include selecting, training and organizing teams of interviewers and hosts and managing the relationship between Caterpillar and Michigan Tech.
Michigan Technological University is a public research university, home to more than 7,000 students from 54 countries. Founded in 1885, the University offers more than 120 undergraduate and graduate degree programs in science and technology, engineering, forestry, business and economics, health professions, humanities, mathematics, and social sciences. Our campus in Michigan's Upper Peninsula overlooks the Keweenaw Waterway and is just a few miles from Lake Superior.