STOP the Spread of Invasive Plants—Clean Your Boots!
By Jennifer Donovan | Published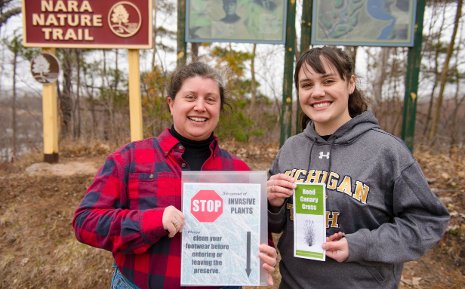 It began as a risk communication class assignment. It's turned into a risk communication initiative that is getting a boost from the City of Houghton and could make a real difference in control of an invasive species of plant in the Keweenaw.
Krysten Cooper, who just graduated from Michigan Technological University with a Bachelor of Science in Science and Technical Communication, was taking one of her final classes: a risk communication course. Her assignment: identify a threat to the health or wellbeing of the community and design a project to communicate about that hazard to a target audience.
Cooper, whose academic emphasis was on environmental studies, turned to Meral Jackson, a graduate student in environmental engineering at Michigan Tech who works for the Houghton-Keweenaw Conservation District and coordinates the Keweenaw Invasive Species Management Area. With Jackson's help, Cooper zeroed in on reed canary grass, an invasive species that is clogging the wetlands in Nara Nature Park just east of Houghton.
Reed canary grass is a tall, dense grass native to Europe. It stands up to 6-feet high and spreads quickly through a horizontal root system, quickly taking over wetland areas and choking out other plants. It also poses a threat to native wildlife because it does not provide adequate food or shelter for creatures adapted to the native plants.
It has taken over the wetlands at Nara Nature Park. What Cooper and Jackson want to do is educate and motivate people to help stop its spread.
Part of the class assignment was to find a client for the risk communication project. So Cooper and Jackson went to see Eric Waara, Houghton's new city manager.
"We sat down and discussed the problem of the reed canary grass, and then we put together a strategy," says Waara. Cooper designed an eye-catching sign and a brochure about the invasive plant.
The poster was really, really challenging," Cooper says. "My graphic design skills were not as strong as my technical writing skills.
But she did it. Not only does a big red STOP sign on the poster literally stop hikers in their track; the sign also reminds them to clean their footwear before leaving the park.
Waara came up with a way to make that easy to do. The City of Houghton, in addition to posting the signs at both entrances to the Nara Nature Park, will place boot cleaning devices and weatherproof holders for the reed canary grass brochures nearby.
"Everybody won here," said Waara. The students got real-world experience in problem-solving and the community got helped."
Michigan Technological University is a public research university, home to more than 7,000 students from 54 countries. Founded in 1885, the University offers more than 120 undergraduate and graduate degree programs in science and technology, engineering, forestry, business and economics, health professions, humanities, mathematics, and social sciences. Our campus in Michigan's Upper Peninsula overlooks the Keweenaw Waterway and is just a few miles from Lake Superior.