Family Treasures from a Bygone Age Find a Home in the Michigan Tech Archives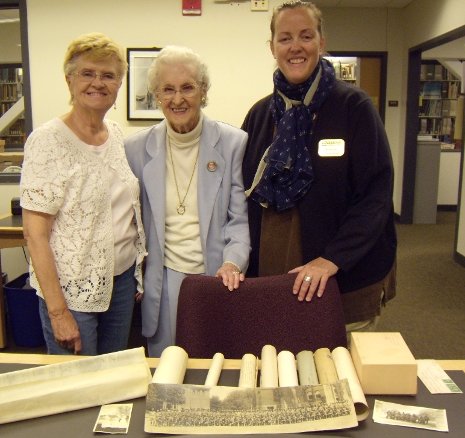 Ellen Raymond, center, donated her father-in-law's memorabilia from nearly a century ago to the Michigan Tech Archives at the suggestion of her friend, Sharon Eklund, left. Archivist Beth Russell called the gifts "a wonderful collection."
July 8, 2014—
Ellen Raymond wasn't sure what to do with the treasures she found in her closet. But her friend Sharon Eklund had a pretty good idea: give them to Michigan Technological University.
Raymond, 94, lives in Baraga, and Eklund looks in on her as a volunteer with Little Brothers Friends of the Elderly. What Raymond found was a virtual "important papers" file preserved by her father-in-law, the late Harvey William Raymond. It included an elaborate diploma issued when he graduated from Baraga High School, a certificate in mine safety earned at what was then the Michigan College of Mines, now Michigan Tech, tender correspondence between him and his fiancée, and several photos, including a class photo taken in 1918, when he was a new recruit at Michigan Tech's military training facility.
Eklund looked up the University in the phone book, saw that Michigan Tech had an archives, and called them up. Yes, said Archivist Beth Russell, they'd be more than happy to take Raymond's keepsakes.
The Michigan Tech Archives don't have many historical documents and photos from the World War I era, Russell said. "And this is a wonderful collection."
Copies of some of the items may someday be put on display, and the originals will be available for researchers. In addition, some photos may be scanned and placed in the Keweenaw Digital Archives, where they can be seen by anyone with a networked device.
Harvey Raymond never served in World War I—the war ended before he went to France. He came back to Baraga after his honorable discharge in 1923 and was the village clerk and postmaster. However, as a staunch Republican, he lost that job when the Democrats won the election. "That was before civil service," Ellen noted. He was always proud that his three sons served in the Second World War, she said, including Harvey Jr., Perry and Ellen's husband, Pete.
Raymond is happy that her in-laws' mementoes have found their way from a closet to an historical collection. "I think it's great, and I think Grandpa would really appreciate this," she said. "I'm glad they are being recognized; otherwise, they would just disappear."
Michigan Technological University (www.mtu.edu) is a leading public research university developing new technologies and preparing students to create the future for a prosperous and sustainable world. Michigan Tech offers more than 120 undergraduate and graduate degree programs in engineering; forest resources; computing; technology; business; economics; natural, physical and environmental sciences; arts; humanities; and social sciences.