New Public Safety Video Cameras Help Keep Campus Safe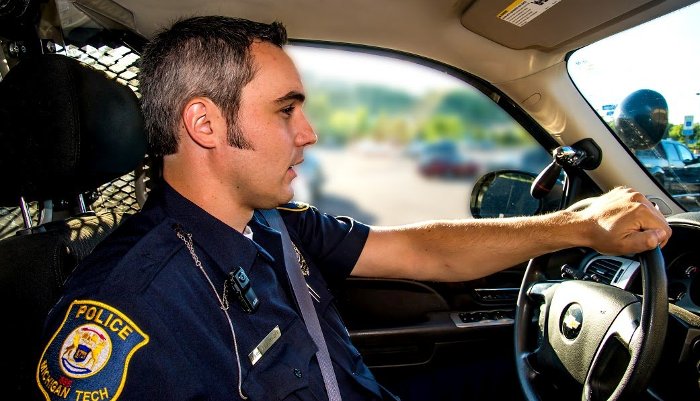 As students return to Michigan Technological University for the new school year, the Department of Public Safety and Police Services (DPSPS) is rolling out new technological tools—all with campus safety in mind.
This year, officers have access to a set of small, wearable, digital video cameras. The cameras allow them to record their interactions with the public if they feel it appropriate, providing a new layer of transparency, safety and security for both officers and the community.
"We have two separate camera options for our officers," said Dan Bennett, director and chief of DPSPS. "There are 16 cameras altogether—some to be worn on uniform lapels and some built into pairs of sunglasses."
Video recording is not new to law enforcement. Police officers have been using video recorders in patrol vehicles for more than a decade.
"This technology allows us to do exactly what we did with radio technology years ago," Bennett said. "Radios used to be confined to the patrol vehicle, but they became portable and wearable. Now, our video cameras are following the same path."
The cameras have an eight-gigabyte storage capacity and can easily be turned on and off to record whenever an officer chooses. Then, videos can be uploaded to department computers and, if necessary, transferred to discs and stored as evidence. At $30–40 per camera, the entire batch cost DPSPS less than $650.
The new cameras are not intended to be covert; in fact, officers want members of the public to be aware that their actions may be recorded. The devices will only be used when an officer feels there may be a need to record an incident, such as during an arrest, a traffic stop or an investigation. General interactions with the public will not be recorded, Bennett said.
"There's no question in my mind that the cameras protect officers and protect the public," said Bennett. "We had a trial run with one or two cameras last spring. Officer Marc Geborkoff came up with the idea and wore the trial camera for several months as a pilot program. The potential for positive community relations and accuracy in reporting was almost immediately recognized. We decided to move the program to the next level."
Bennett says having the cameras available for officers at large public events like football games or the Winter Carnival All-Nighter will help officers feel more confident in their decisions.
With incidents captured on video, there will never be a question about why an officer made a certain decision. Plus, if an officer turns the camera on, both parties' actions are being recorded.
"It creates new levels of accountability that will benefit everyone," Bennett said. "Change usually comes slowly to law enforcement, but these changes have been a long time coming. To say our new technology is worth its weight in gold would be an understatement."
Michigan Technological University is a public research university, home to more than 7,000 students from 54 countries. Founded in 1885, the University offers more than 120 undergraduate and graduate degree programs in science and technology, engineering, forestry, business and economics, health professions, humanities, mathematics, and social sciences. Our campus in Michigan's Upper Peninsula overlooks the Keweenaw Waterway and is just a few miles from Lake Superior.