Generations of Discovery Campaign Meets & Beats Its Goal
Last Modified 2:37 PM, June 16, 2016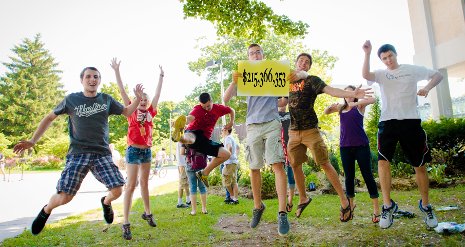 Students are excited to learn that the Generations of Discovery campaign not only met, but beat its goal.
September 19, 2013—
When Michigan Technological University launched its Generations of Discovery capital campaign in 2006, announcing a goal of $200 million, there were some doubters. Remember 2006—when the housing bubble burst and the stock market was heading for its 2008-09 crash, kicking the country into a major recession?
But Michigan Tech did it—and then some. At a campaign celebration at the University's Rozsa Center for the Performing Arts on Sept. 19, 2013, Campaign Chair Dave House announced that Michigan Tech has raised $215,366,353, much of it in planned gifts that will be coming in over the next 10 to 25 years.
House, a Michigan Tech alumnus and former Intel executive, was never among the doubters.  "I believed we could do it," he said.  "We just had to communicate to our friends and alumni what the real story was."
That story is embodied in the University's strategic plan. The plan commits Michigan Tech to attracting the very best faculty and students, to developing distinctive programs that prepare students to meet the needs of a rapidly changing, technologically based global economy, and to supporting world class scholarship and research.  
Accomplishing those lofty goals takes a robust endowment. That's what the Generations of Discovery campaign was designed to build.
"The funds raised by this campaign will enable us to attract the brightest students and the best professors," said President Glenn Mroz.  "It will give Tech the resources we need to drive innovation and be recognized as one of the nation's finest technological universities."
In the 25 years before the campaign, Mroz said, Michigan Tech raised $91 million in major and planned gifts, while those types of gifts rose to $109 million in the seven years of the campaign alone. "People really stepped up their commitment to Michigan Tech," he said.
Generations of Discovery focused on endowing chairs and professorships to attract and retain world-class faculty members and on providing scholarships for students. Nearly 28,000 donors contributed to the campaign, which began in a "quiet phase" in 2006, went public in 2010 and ended on June 30, 2013.  
Those donors enabled Michigan Tech to endow 15 new chairs and professorships since the campaign began. They provided $36.1 million in scholarships, helping outstanding students attend the University. They funded two new high-tech classrooms and updated physics labs, provided researchers and students with a microscope equipped to take 3D images of cells, tissues and nanomaterials. Campaign contributions put a state-of-the-art video scoreboard in the John J. MacInnes Student Ice Arena, bought new instruments for the ever-popular Pep Band and equipped a trading room—a mini-stock exchange—for the School of Business & Economics' Applied Portfolio Management Program. And those are just some of the highlights.
"It was gratifying to see all areas of the University unite to turn this strategy into reality, said George Butvilas, chair of the Michigan Tech Fund Board of Directors. "Each area helped the advancement officers facilitate contact with alumni and friends of Michigan Tech in order to raise the funds to move towards these important goals. Team Tech moved the ball forward and brought the University to a new, higher level."
The end-of-campaign celebration on campus this week included walking tours of many of the places and programs supported by donations, including the campus gardens and the new John Rovano Plaza at the Van Pelt and Opie Library.
An "entrepreneurial" tour featured the new Waino Wahtera Center for Student Success, made possible by the late alumnus Waino Wahtera; the ion space propulsion lab and the Fernstrum Family adaptable high-tech classroom.  
An "innovative" tour included the APMP and LSGI trading room.. the William G. Jackson Center for Teaching and Learning, and a poster session staged by the Michigan Tech Research Institute.  
On a "distinctive" tour, guests saw the Paul and Susan Williams Center for Computer Systems Research, the Power and Energy Resource Center and Tech's Outdoor Adventure Program.
A "transformational" tour visited the Humanities Digital Media Zone, the Pavlis Institute for Global Technological Leadership, a research poster session by the Sustainable Futures Institute and Great Lakes Research Center laboratories.
An "adventurous" tour took visitors to the A.E. Seaman Mineral Museum, the hybrid electric vehicle mobile lab and the Student Development Complex for a look at the ice arena renovations, the Opie suites, the video scoreboard, the Rockwell lobby, the stadium artificial turf and the women's soccer program.  
All tours featured a Michigan Tech Mind Trekkers demonstration. Mind Trekkers is a road show that takes the hands-on excitement of science and engineering to children and adults nationwide. The show relies mostly on student volunteers.
"This campaign has been like a hand across generation, from alumni to current students," said Mroz. "We are grateful to everyone who gave to make Michigan Tech the amazing place it is and will become."
Michigan Technological University (www.mtu.edu) is a leading public research university developing new technologies and preparing students to create the future for a prosperous and sustainable world. Michigan Tech offers more than 120 undergraduate and graduate degree programs in engineering; forest resources; computing; technology; business; economics; natural, physical and environmental sciences; arts; humanities; and social sciences.