US News Ranks Tech's Online Graduate Business, Engineering Programs
By Jennifer Donovan | Published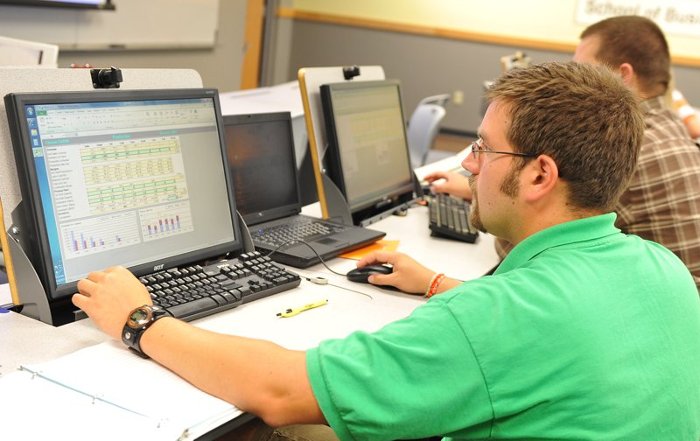 The MBA online program in Michigan Tech's School of Business and Economics placed 47th of 197 online graduate business programs in new rankings released today by US News & World Report. Tech's online master's degree program in engineering also made the magazine's 2013 national rankings, earning 41st place among 66 online graduate programs in engineering that were ranked.
"The Tech MBA Online program was created to provide an innovative curriculum guided by experienced and knowledgeable business faculty," said Gene Klippel, dean of the School of Business and Economics. "Professionals looking to advance their career, even in a challenging economy, can benefit from learning and understanding technology and innovation within organizations. A ranking in the top 50 from US News confirms that our program is on track for continued success for students, our School and Michigan Tech."
Bill Worek, dean of the College of Engineering, said: "The master's program in the College of Engineering continues to be highly ranked with other premiere engineering schools. This online program gives students with full-time jobs the ability to complete an advanced degree. This is essential for the state of Michigan to further enhance the quality of the engineering work force in the state."
US News defines an online education program as one for which all the coursework can be completed via distance education courses that incorporate Internet-based learning technologies. Among criteria evaluated were graduation rate, class size, one-year retention rate, time to degree, graduate entrance exam scores and grade point averages of students, percentage of PhD and tenured faculty, and technologies and services available to students.
For the first time this year, US News added a peer assessment survey of deans and top distance learning higher education academics employed by schools ranked in 2012.
"It is a wonderful testament to the dedication of our faculty and staff that we have achieved these rankings," said Graduate School Dean Jackie Huntoon. "I am happy to see that both the business and engineering online programs are getting the positive attention they deserve."
"Michigan Tech's online MBA program is really quite young, and already it is ranked in the top third of all ranked programs nationwide. This is a remarkable achievement," Huntoon went on to say. "The number and quality of offerings in engineering continues to grow each year. I am continually impressed by the comments I hear from students and employers who tell me that they chose Michigan Tech because of our focus on real-world applications and because of the quality and commitment of our faculty."
Michigan Technological University is a public research university, home to more than 7,000 students from 54 countries. Founded in 1885, the University offers more than 120 undergraduate and graduate degree programs in science and technology, engineering, forestry, business and economics, health professions, humanities, mathematics, and social sciences. Our campus in Michigan's Upper Peninsula overlooks the Keweenaw Waterway and is just a few miles from Lake Superior.