Student-designed Hand-cranked Cycles Unveiled at Army-Navy Game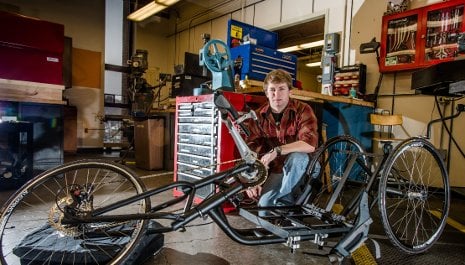 Michigan Technological University engineering students —supported by General Motors' Chevrolet—designed and built two prototypes of hand-cranked three-wheel cycles for wounded veterans to ride in endurance races. So what better place to unveil their handiwork than the nationally televised Army-Navy football game.
The cycles will be used by the Achilles Freedom Team of Wounded Veterans in future competitions.
A member of the Achilles Freedom Team rode one of the prototype cycles out onto the field during a first-quarter time out, accompanied by Michigan Tech senior James Cook, GM Chairman and CEO Dan Akerson and GM engineer Alexa Ellswood.
Cook is a mechanical engineering major and member of one of five Senior Design teams that worked on the project, called Huskies Helping Heroes. Another Michigan Tech student, Brett Jenkins, will represent the teams at a pre-game press conference.
GM's Military Discount Program has provided hand cycles to the Achilles team in the past, but they had design issues. They proved unstable, or the components were breaking down under the pressure of racing. What could GM do to help? .
Terry Woychowski, a Michigan Tech alumnus, retired GM vice president and current member of the University's Board of Trustees, knew exactly where to turn. "I have had such excellent experiences with Senior Design at Michigan Tech," he said. "What if we sponsored a Senior Design activity based on the Achilles project? We'd not only be helping wounded warriors, we'd be supporting STEM [science, technology, engineering and math] education."
GM has long partnered with Michigan Tech, supporting research and educational programs. Senior Capstone Design program coordinator Robert DeJonge eagerly adopted Woychowski's idea.
But the scope of the project was beyond what one Senior Design team could undertake. So GM agreed to support four teams throughout 2012, and a fifth team emerged in September. Each team worked with a veteran on the Achilles Freedom Team to address their special needs and concerns. Last fall, GM brought the teams to the Detroit Free Press/Talmer Bank Marathon to see first-hand the challenges the wounded veterans faced and to give GM a preview of their designs.
Then the Michigan Tech teams integrated their best ideas into two prototypes that they proceeded to build.
One cycle is called the Keweenaw Cruiser. The other is the Tomahawk. Both use high-strength steel alloys for durability, improved restraints for comfort and safety, and designs that make them more portable and less prone to damage. For example, a pivoting fork-to-frame attachment allows the front wheel assembly to fold into the seat during transport.
"This is the most rewarding assignment I've ever worked on," said Jenkins. A senior from Troy, Mich., Jenkins will graduate from Michigan Tech later this month.
Chevrolet engineers mentored the student teams. "I loved working with the students and seeing their energy and passion, said Ellswood, one of those engineers. "This isn't their last class. It's their first job."
---
General Motors Co. (NYSE:GM, TSX: GMM) and its partners produce vehicles in 30 countries, and the company has leadership positions in the world's largest and fastest-growing automotive markets. GM's brands include Chevrolet and Cadillac, as well as Baojun, Buick, GMC, Holden, Jiefang, Opel, Vauxhall and Wuling. More information on the company and its subsidiaries, including OnStar, a global leader in vehicle safety, security and information services, can be found at http://www.gm.com.
The Achilles Freedom Team of Wounded Veterans was founded in 2004 by Achilles International as a rehabilitation program that trains and sponsors recently wounded servicemen to participate mainstream races across the nation. For more information, please visit our website at www.achillesinternational.org or find us on Facebook at Achilles International.
Michigan Technological University is a public research university, home to more than 7,000 students from 54 countries. Founded in 1885, the University offers more than 120 undergraduate and graduate degree programs in science and technology, engineering, forestry, business and economics, health professions, humanities, mathematics, and social sciences. Our campus in Michigan's Upper Peninsula overlooks the Keweenaw Waterway and is just a few miles from Lake Superior.