SAE Honors Johnson for Legacy of Powertrain Engineering Research
By Marcia Goodrich | Published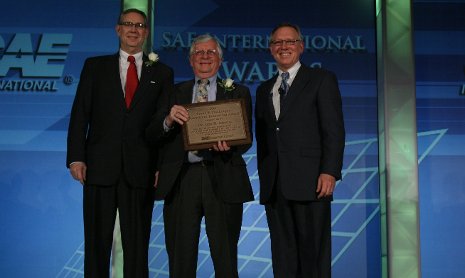 The Society of Automotive Engineers presented the Franz F. Pischinger Powertrain Innovation Award to John Johnson April 12 at the SAE World Congress.
The Pischinger Award was established in 2008 by FEV Inc. to recognize exceptional innovation and competence in powertrain design and development. Johnson, a presidential professor emeritus of the mechanical engineering–engineering mechanics department at Michigan Technological University, is a pioneer in the field of diesel emissions. The bronze plaque he received is engraved with the words "For outstanding innovation and lifetime achievement in the field of powertrain research, design and development."
In the 1970s, Johnson's work laid the foundation for the first federal smoke emissions standards and for California's gaseous emission standards for heavy-duty on-highway vehicles. His research focuses on accurately measuring and controlling diesel emissions; he uses advanced methodologies to develop combustion and aftertreatment systems that meet stringent emission standards and use less fuel.
Johnson has participated in twelve different National Academy of Science committees evaluating fuel-saving technologies. He is currently chair of a committee reviewing phase two of the Department of Energy's 21st Century Truck Partnership. The partnership is exploring technological improvements that could be used in commercial and military vehicles to reduce fuel consumption.
"I am honored that Dr. Johnson is being presented with this award," said the award's namesake, Franz Pischinger, chairman of the board of FEV Motorentechnick GmbH. "His demonstrated leadership and dedication in the classroom, the research lab, and on the national stage exemplifies the spirit of this award."
Gary Rogers, president and CEO of FEV, gave the award to Johnson at the annual awards ceremony held in conjunction with the 2011 SAE World Congress in Detroit.
Michigan Technological University is a public research university, home to more than 7,000 students from 60 countries. Founded in 1885, the University offers more than 120 undergraduate and graduate degree programs in science and technology, engineering, forestry, business and economics, health professions, humanities, mathematics, and social sciences. Our campus in Michigan's Upper Peninsula overlooks the Keweenaw Waterway and is just a few miles from Lake Superior.