Read All About It! Michigan Tech Gears Up for 2011 Winter Carnival
By Marcia Goodrich | Published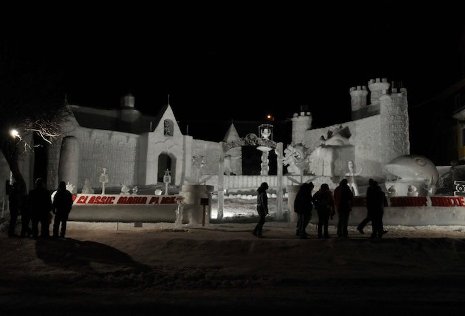 Sculptors at Michigan Technological University have been hitting the books with an icy vengeance this year, building snow statues reflecting this year's Winter Carnival theme, "Thousands of Pages Unfold in Bitter Cold."
Sponsored by Blue Key, the Winter Carnival recess is officially Wednesday, Feb. 9, through Sunday, Feb. 12. But since Jan. 6, student groups entered in the month-long contest have been doggedly erecting snow statues at all hours. At 10 p.m., Feb. 9, they'll be joined by students frantically competing in the 10-hour One-Nighter statue event.
All statue construction ends at 8 a.m. sharp Thursday, Feb. 10, when judges and throngs of visitors head out into the cold to view the statues at their pristine best. At 9 a.m. Feb. 10, 11 and 12, sleigh rides will be available near Douglass Houghton Hall, on the east end of campus. Then at noon, Eskimo Banded Alaskan Malamutes and Sled Dog Rescue will offer dog-sled rides.
Food
If you are visiting campus over Winter Carnival weekend, you'll have plenty of opportunities to grab a bite to eat. The Library Café, the Campus Café in Wadsworth Hall, and the Memorial Union Commons will be serving food Saturday and Sunday. In addition, visitors can enjoy meals in any of the three residence-hall dining areas.
Tours
Visitors can tour the Hillside Place student apartment building and the residence halls between 1 and 3 p.m. on Saturday, Feb. 12. The Admissions Office will host campus tours on Saturday; they depart from the J. R. Van Pelt and Opie Library at noon, 1 and 2 p.m.
Everyone loves to look at the snow statues, but Blue Key sponsors all kinds of events unique to Winter Carnival that start long before the statues are completed.
Queen's Talent Competition and Coronation, Feb. 5
The Queen's Coronation is set for 7:30 p.m. on Saturday, Feb. 5, at the Rozsa Center. Queen candidates are selected by student organizations. The finalists are chosen following an interview process and then perform in Saturday's talent portion of the contest. The evening culminates with the coronation of the winner, who is selected by a vote of students and community members.
Ice fishing, Feb. 5
The Winter Carnival ice fishing tournament on Chassell Bay is open to community members, who can compete alongside students angling for the biggest walleyes and pike. Register at Northwoods Sporting Goods in Hancock, Swift True Value Hardware and the WOLV radio station in Houghton, and at the Blue Key office on the first floor of Michigan Tech's Memorial Union. The entry fee is $10 per person. Deadline for registration is Friday, Feb. 4. The tournament starts at 8 a.m. Saturday, Feb. 5, on Chassell Bay.
Beards, Feb. 10
On Thursday, Feb. 10, the Beards judging begins at 1 p.m. in Room 135 of Fisher Hall. Early in December, clean-shaven competitors sign up in three different categories (beards, goatees and sideburns). Contestants then have two months to grow the fullest facial hair possible. Finally, in an attempt to wow the judges, they often show off their beards using costumes, songs, skits and the like.
Stage Revue, Feb. 10
You'll never see anything like the Stage Revue on Broadway. Student groups have been working for weeks to put together the sometimes witty, sometimes bawdy, always silly productions known on campus as skits. Two Stage Revue shows will be held Thursday, Feb. 10, in the Rozsa Center. Bring the kids to the 5 p.m. show; the 9 p.m. event is traditionally adult fare.
Tickets for the Queen's Coronation and the Stage Revue are $10 each, $15 to attend both.
Torchlight Parade, Fireworks, Feb. 12
On Saturday, Feb. 12, skiers bearing lights snake down Mont Ripley at 8:30 p.m. for the Torchlight Parade, followed at 8:45 p.m. by fireworks.
Finally, the Winter Carnival awards ceremony is held at 9 p.m. in the Memorial Union Ballroom, followed by the annual Snowball dance.
Throughout Carnival, student organizations compete with surprising intensity in a variety of winter sports, many of which never make the pages of SI. If you'd like to check them out, here's a schedule:
Skating—Dee Stadium, Houghton
Saturday, Feb. 5, 8 a.m.
Human Dogsled, Tug o' War, Yooper Sprint snowshoe races—Student Development Complex practice fields
Friday, Feb. 11, 11 a.m.
Downhill ski races—Mont Ripley
Friday, Feb. 11, 12:30 p.m.
Snowboarding—Mont Ripley
Friday, Feb. 11, 3 p.m.
Curling—Calumet Drill House
The real deal
Saturday, Jan. 29, noon
Sunday, Jan. 30, 10 a.m.
Friday, Feb. 4, 6 p.m.
Saturday, Feb. 5, 10 a.m.
Sunday, Feb. 6, 10 a.m.
Broomball—near Walker Arts and Humanities Center
Hockey for everyone: no skates, lots of falling down
Tuesday, Feb. 1, 9 p.m.
Wednesday, Feb. 2, 10:30 p.m.
Thursday, Feb. 3, 9:30 p.m.
Tuesday, Feb. 8, 9:30 p.m.
Ice bowling—Dee Stadium
Tuesday, Feb. 1, 9 p.m.
Wednesday, Feb. 2, 10:30 p.m.
Thursday, Feb. 3, 9:30 p.m.
Tuesday, Feb. 8, 9:30 p.m.
Snow volleyball—Student Development Complex practice fields
Beach volleyball, without the beach
Saturday, Feb. 5, 10 a.m.
Sunday, Feb. 6, 10 a.m.
Friday, Feb. 11, 10 a.m.
Michigan Technological University is a public research university, home to more than 7,000 students from 54 countries. Founded in 1885, the University offers more than 120 undergraduate and graduate degree programs in science and technology, engineering, forestry, business and economics, health professions, humanities, mathematics, and social sciences. Our campus in Michigan's Upper Peninsula overlooks the Keweenaw Waterway and is just a few miles from Lake Superior.