It Might Make Your Hair Stand on End
By Jennifer Donovan | Published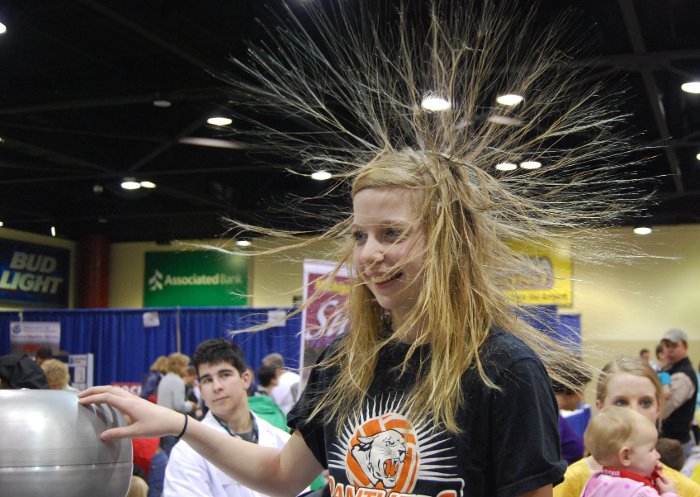 Boy Scouts are discovering that science can be pretty exciting. In fact, it can make your hair stand on end.
At Michigan Technological University's Youth Programs tent—the only university exhibit in the 2010 Boy Scout Jamboree Technology Quest complex—Scouts can touch the shiny ball of a Van de Graaff generator, a simple electromagnetic device that will literally make their hair stand on end. They can also run through (or over) Oobleck, a strange substance that displays the properties of both a liquid and a solid.
They will learn how to use liquid nitrogen to make 60-second ice cream. They will also get to ride a hovercraft powered by a leaf blower and try a Rubens' Tube, a physics experiment that demonstrates the relationship between sound waves and sound pressure by making flames dance to music. The Boy Scouts will also be doing a DNA demonstration in the Michigan Tech Youth Programs tent.
"This is a once-in-a-lifetime opportunity for Boy Scouts to discover for themselves the fun and excitement of science and technology," said the University's Youth Programs outreach director Steve Patchin.
Patchin and his staff have created a travelling science road show called "Mind Trekkers" that includes the Jamboree activities, and they take it all over—to Green Bay, Wis., and Grand Rapids, Mich, for example—wherever large groups of impressionable young people gather. Their goal is simple: to get kids hooked on science.
The hands-on activities are a perfect complement to the state university's mission—to prepare the next generation to create the future for an increasingly technological world. And they exemplify Michigan Tech's commitment to hands-on education.
Every one of the 40,000 to 50,000 Boy Scouts attending the 10-day Jamboree at Fort A.P. Hill in Virginia will have at least one opportunity to participate in Michigan Tech's Technology Quest activities. Those who complete at least one activity will receive a custom-designed Boy Scout Jamboree shoulder patch.
Seven Michigan Tech students, four University staff members and the associate dean of the College of Engineering will be at the Jamboree, as will Ned Dake, a 90-year-old Michigan Tech graduate who became an Eagle Scout in the 1930s and continues to work with the Boy Scouts to this day.
Michigan Technological University is a public research university, home to more than 7,000 students from 54 countries. Founded in 1885, the University offers more than 120 undergraduate and graduate degree programs in science and technology, engineering, forestry, business and economics, health professions, humanities, mathematics, and social sciences. Our campus in Michigan's Upper Peninsula overlooks the Keweenaw Waterway and is just a few miles from Lake Superior.